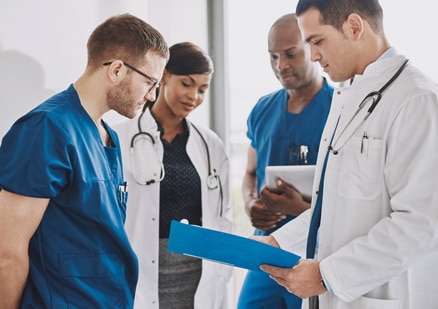 Now that you're pregnant, you'll work closely with a prenatal care team who will help you make decisions, track milestones, and stay healthy through your pregnancy. Kaiser Permanente's collaborative approach to care helps us establish best practices that lead to better outcomes. With seamless communication across departments and specialties, everyone who cares for you during your pregnancy is connected, working as a team to keep you and your baby healthy. We're here to empower and support you, and help you have the delivery day experience you want.
These are some of the people who could be part of your prenatal care team:
Obstetricians are medical doctors who specialize in the care of pregnant women. Most obstetricians are also gynecologists who provide care for women when they aren't pregnant, so you might be able to continue seeing your regular gynecologist for prenatal care.
Certified nurse-midwives are registered nurses who have specialized education and training. They can care for you before and after your pregnancy, deliver babies, and provide family planning and birth control counseling.
Perinatologists are also called maternal-fetal medicine specialists. They're highly skilled in caring for women with high-risk pregnancies.
Nurse practitioners are specially trained to provide health care services to women during pregnancy, childbirth and the postpartum period.
Choosing a doctor or midwife
Choosing a doctor or midwife is directly related to where you live, and where you want to deliver your baby. First, you'll have to check to see if we offer midwifery in your area.
In many Kaiser Permanente facilities, physicians and midwives work together to give you as much personalized care and attention as possible.
Doctors and midwives have different training and skills, and their approaches to prenatal care and childbirth may be different as well. When you're choosing your prenatal care provider, find out if his or her philosophy and approach match your preferences and values. Whether you have a doctor, a midwife, or both, they share the same goal — keeping you and your baby healthy.
When to schedule your first prenatal visit


Northern California members:
Visit Your Pregnancy to sign up for prenatal classes, get weekly emails, view and prepare for appointments, and more.
Learn about CenteringPregnancy®, a unique prenatal care program that includes group support with other new moms.
Download our Birth Preferences form.