The best workouts for moms-to-be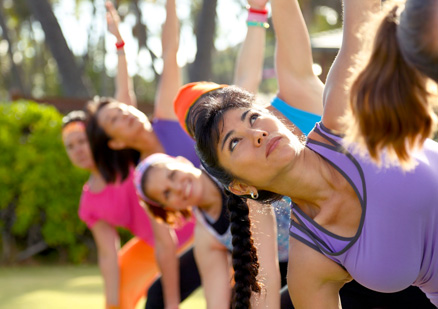 Even if you worked out a lot before your pregnancy, you might notice changes in the way you feel after a workout, especially as your baby grows. If you're new to exercise, check in with us before you get started, and build up slowly. As long as you're having a healthy pregnancy, these moves are generally safe for you and your baby.
Walking. You don't need any special equipment, except for a pair of sneakers. And you can walk just about anywhere. Try sneaking some extra steps into your day by parking your car at the far end of the lot, or taking the stairs instead of the elevator. Every step counts!
Swimming or water aerobics. Both are gentle on your joints and provide a feeling of weightlessness — a welcome feeling as your baby gets bigger!
Stretching or yoga. Whether you're looking for a little Zen, or just need a good stretch, these low-impact moves can help keep you flexible and relaxed. See if we offer prenatal yoga classes* in your area — they're a great place to meet other moms-to-be.
Low-impact dance or aerobics. Moving to music is fun for you and your baby, especially in your late second trimester, when many babies begin to hear outside sounds. Try a class* or just turn up the music in your living room and get moving! You can also find free prenatal fitness videos online.
Have a safe workout
Whatever activity you choose, talk to us before starting anything new. Now that you're exercising for two, it's important to listen to your body and rest when you need to.
Here are some tips to remember:
Hydrate, hydrate, hydrate.

 Drink extra water before, during, and after exercise.

Keep blood sugar steady.

 Eat a small snack about 15 minutes before you exercise.

Stay cool.

 During hot weather, try to exercise indoors, ideally in an air-conditioned space to avoid overheating.

Know when to quit.

 Stop exercising if you experience pain, cramps, dizziness, or headaches.
Here are some things to avoid:
Vigorous exercise.

 Keep your heart rate under 140 beats per minute. (Take your pulse and count the number of beats for 10 seconds, then multiply by 6 to get beats per minute.)

High-risk and contact sports.

 Avoid any activity where there's a risk of falling or getting hit in the stomach. If you're not sure whether something is safe or not, ask us first.

Learn how exercise can help prepare your body for labor and delivery
*Some classes may require a fee.


Northern California members:
Visit Your Pregnancy to sign up for prenatal classes, get weekly emails, view and prepare for appointments, and more.
Learn about CenteringPregnancy®, a unique prenatal care program that includes group support with other new moms.
Download our Birth Preferences form.