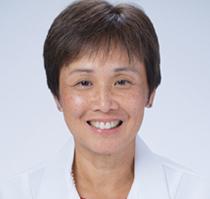 System Error
The information is not available
Mi especialidad:
Internal Medicine
Mi afiliación de proveedor:
Proveedor de Kaiser Permanente
Idioma que hablo: English
Sexo: Mujer
Dónde ejerzo mi práctica médica
Esta información no está disponible en este momento.
Esta información no está disponible en este momento.
Servicios disponibles
Servicios de emergencia
Servicios de atención urgente
Servicios fuera del horario normal
Servicios de farmacia
Servicios no disponibles
Sin servicios de emergencia
Sin servicios de atención urgente
Sin servicios fuera del horario normal
Sin servicios de farmacia
Esta información no está disponible en este momento.
Map ends
Acerca de mí
Although both of my parents grew up in Hawaii, I was born and raised on the East Coast, as my father began his medical education and career as a pediatric infectious disease specialist at Johns Hopkins University in Baltimore, Maryland. I grew up with a vibrant and creative mother and a father who viewed life in a gentle and joyful manner. For years, I enjoyed watching him work in his research lab, in the lecture halls or at annual dinner parties at our home surrounded by medical students and residents. He suggested I enter Smith College as a pre-medical music major, believing this would address my dual interests in science and music. After 20 years of life on the U.S. Mainland, my parents decided to return "home" to Hawaii. In 1986, my husband and I moved to Kona, and we are thankful for the deep connections we have developed in the close-knit mauka community of South Kona.
Acerca de mi práctica médica
During medical school at University of Hawaii, I met my husband who was an internal medicine resident. He was to become my inspiration and mentor in internal medicine during medical school, residency and our subsequent 20-year private practice in Kona. Although appreciative of the experiences gained in private practice, I was grateful for the opportunity to join the Hawaii Permanente Medical Group at Kona clinic in 2004. The Hawaii Permanente Medical Group has the vision, ability and drive to fulfill my dreams of providing comprehensive care to the West Hawaii community. Its core values of compassion, innovation and excellence resonate with my belief that these qualities are vital to the survival and future of our profession, as we take the best "art in medicine" practices of the past and the knowledge and technology of the present to mold an effective health care model for the future. My philosophy of care is based on the principles of palliative care. Palliative care is the complete care of those living with advanced incurable diseases or facing critical illnesses where the goal is to achieve the best possible quality of life through the relief of suffering. Its principles include respect for an individual's values and beliefs, and care based on a bio-psychosocial and spiritual health model that includes family and support systems. To me, these are universal values. As a physician, I have the opportunity to view the world through the eyes of my patients. When I enter their worlds, I focus on listening and identifying with their concerns before presenting any recommendations. I find comfort, strength and inspiration as I witness the dreams, tears and joys of everyday people facing the challenges and struggles of their lives. The most profound gratification is to care for a patient from health through life's end and to later re-connect with their children or grandchildren perhaps many years later.
Cómo vivo bien
I believe that wellness is a lifelong journey to achieve the best state of physical, mental, emotional and spiritual health. Wellness involves exercising, eating heart-healthy foods, learning how to manage your thoughts and feelings and staying connected to people. I try to balance home and work responsibilities, and focus on what is important instead of what is beyond my capabilities at that particular time. My goal is to stay mindful of the unexpected moments in life, both good and bad, find contentment in my personal and professional lives, and maintain my passion for my children and music.
Read More
Read Less
Mi consultorio
Requisitos para una remisión
No necesita una remisión para ver a este proveedor.
Read More
Read Less
Grupos médicos y planes
Hawaii Permanente Medical Group
6700 Kalanianaole Hwy Ste 111, Honolulu, HI 96825
List Header Plans Accepted
Este proveedor acepta todos los planes de salud de Kaiser Permanente. Obtenga más información.

Información de contacto
24-hour prescription refill
808-643-7979
Appointment cancellations
808-432-2000
Behavioral Health Services
808-432-7600
Information and appointments
808-432-2000
Member Services
1-800-966-5955 (toll free)
Mi formación, certificados y licencias
Escuela de medicina
University of Hawaii John A Burns School of Medicine
Formación médica
Internship
Internal Medicine
University of Hawaii John A Burns School of Medicine

Honolulu , HI
Residency
Internal Medicine
University of Hawaii John A Burns School of Medicine

Honolulu , HI
Se unió a Permanente Medical Group
2004
Identificación del proveedor
7076
Read More
Read Less
Mis hospitales
Esta información no está disponible en este momento.
Si desea encontrar:
el horario de atención de un proveedor, busque en nuestro directorio de centros de atención
los proveedores incluidos en su plan o que aceptan pacientes nuevos, llame al 1-800-966-5955 (sin costo) o al 711 (línea TTY para personas con problemas auditivos o del habla)
La información de este directorio en línea se actualiza periódicamente. La disponibilidad de médicos, hospitales, proveedores y servicios puede cambiar.
Kaiser Permanente toma en cuenta los mismos niveles de calidad, la experiencia del miembro o los costos para seleccionar a los profesionales de la salud y los centros de atención en los planes del nivel Silver del Mercado de Seguros Médicos, como lo hace para todos los demás productos y líneas de negocios de KFHP (Kaiser Foundation Health Plan). Es posible que las medidas incluyan, entre otras, el rendimiento de Healthcare Effectiveness Data and Information Set (HEDIS)/Consumer Assessment of Healthcare Providers and Systems (CAHPS), las quejas de los miembros/pacientes, las calificaciones de seguridad del paciente, las medidas de calidad del hospital y la necesidad geográfica. Los miembros inscritos en los planes del Mercado de Seguros Médicos de KFHP tienen acceso a todos los proveedores del cuidado de la salud profesionales, institucionales y complementarios que participan en la red de proveedores contratados de los planes de KFHP, de acuerdo con los términos del plan de cobertura de KFHP de los miembros. Todos los médicos del grupo médico de Kaiser Permanente y los médicos de la red deben seguir los mismos procesos de revisión de calidad y certificaciones.
Kaiser Permanente aplica los mismos criterios en cuanto a la distribución geográfica para seleccionar los hospitales en los planes del Mercado de Seguros Médicos y en cuanto a todos los demás productos y líneas de negocio de Kaiser Foundation Health Plan (KFHP).
La información acerca de un profesional de la salud nos la proporciona el profesional de la salud o se obtiene en el proceso de certificación de credenciales. Si desea obtener información más actualizada sobre la licencia de un profesional de la salud, llame al Centro de Recursos del Consumidor (Consumer Resource Center) del Departamento de Comercio y Asuntos del Consumidor de Hawaii (Hawaii Department of Commerce and Consumer Affairs) al (808) 587-3295 o visite su sitio web (en inglés), o llame al Centro de Servicio al Cliente (Customer Service Center) de Kaiser Permanente al (808) 432-5955 (para Oahu) o al 1-800-966-5955 (sin costo, para las islas vecinas). Para las personas sordas, con problemas auditivos o del habla, llame al 1-800-966-5955 o al 711 (línea TTY).
Esta página fue actualizada por última vez el:

02/19/2020