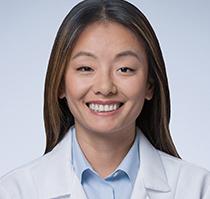 Mi especialidad:
Gastroenterology
Mi afiliación de proveedor:
Proveedor de Kaiser Permanente
Idioma que hablo: English
Sexo: Mujer
Es necesaria una remisión.
Dónde ejerzo mi práctica médica
Esta información no está disponible en este momento.
Esta información no está disponible en este momento.
Servicios disponibles
Servicios de emergencia
Servicios de atención urgente
Servicios fuera del horario normal
Servicios de farmacia
Servicios no disponibles
Sin servicios de emergencia
Sin servicios de atención urgente
Sin servicios fuera del horario normal
Sin servicios de farmacia
Esta información no está disponible en este momento.
Map ends
Acerca de mí
I was born in China and grew up in Ontario, Canada, where the cold winters are long and snow covered the ground for half the year. I never liked the cold, so I began my journey south. I received my medical school training at the Albert Einstein College of Medicine in New York, my internal medicine residency training at Yale-New Haven Hospital, and my gastroenterology and hepatology fellowship training back at Albert Einstein at Montefiore Medical Center. After a decade in the slightly warmer climates of New York and Connecticut, my family and I decided to make our dream move to Hawaii, where the people are as warm and beautiful as the weather and landscape of the islands.
Acerca de mi práctica médica
Coming from a family of teachers, I always assumed that I would become a teacher, too. But my mother, who died young from cancer, inspired me to pursue medicine. Fortunately, being a physician allows me to be an eternal teacher by educating my patients and their families, colleagues, and trainees. I'm also a lifelong learner, always aspiring to understand the latest developments in my field.
Over 2,000 years ago Hippocrates wisely said, "All disease begins in the gut." To this day, we're only just beginning to understand how our gut and microbiome can deeply influence the rest of the body, including the mind. Similarly, the liver is particularly fascinating because of its extreme resilience when injured and its critical role in the functions of many other organ systems. I love the fields of gastroenterology and hepatology (the study of the liver) because it covers such a wide variety of illnesses and requires both technical skills and critical thinking. It's also one of the few areas of medicine in which one can identify, locate, and treat the cause of a problem all in one sitting.
By reading gastroenterology and hepatology journals and attending national and international conferences, I'm able to keep abreast of new guidelines and developments in the field and to apply them in my own practice. I also have access to the latest information through my professional organizations—the American Association for the Study of Liver Diseases, the American Gastroenterological Association, the American College of Gastroenterology, and the American Society for Gastrointestinal Endoscopy.
The Hawaii Permanente Medical Group (HPMG) is a well-established, cohesive, and collaborative organization that values evidence-based medicine and always strives to provide high quality care. I'm very happy to be a part of an organization where I'm afforded the ability to spend more time focusing on taking care of my patients and less time on the administrative nuisances of medicine.
I believe in building collaborative partnerships with patients, their families, colleagues, and staff, in order to provide compassionate, innovative, and excellent care. I also believe that knowledge is power. By learning about patients' beliefs and values, and by educating them about their conditions, test results, and treatment options, I'm able to tailor treatment plans to each unique individual.
Cómo vivo bien
We moved to Hawaii largely for the wonderful year-round weather, which has allowed my family to enjoy the outdoors and water activities any time of the year. In my spare time, I enjoy photography, snorkeling, trying new cuisines and restaurants, traveling, playing guitar and ukulele, and spending time with my husband, dog, and friends.
Read More
Read Less
Mi consultorio
Requisitos para una remisión
Necesita una remisión para ver a este proveedor.
Read More
Read Less
Grupos médicos y planes
Hawaii Permanente Medical Group
2828 Paa Street, Honolulu, HI 96819
List Header Plans Accepted
Este proveedor acepta todos los planes de salud de Kaiser Permanente. Obtenga más información.

Información de contacto
24-hour prescription refill
808-643-7979
Appointment cancellations
808-432-2000
Behavioral Health Services
808-432-7600
Information and appointments
808-432-2000
Member Services
1-800-966-5955 (toll free)
Mi formación, certificados y licencias
Escuela de medicina
Albert Einstein College of Medicine
Formación médica
Internship
Internal Medicine
Yale-New Haven Hospital

New Haven , CT
Residency
Internal Medicine
Yale-New Haven Hospital

New Haven , CT
Fellowship
Gastroenterology
Montefiore Medical Center Albert Einsten College of Medicine

Bronx , NY
Se unió a Permanente Medical Group
2016
Identificación del proveedor
15891
Read More
Read Less
Mis hospitales
Tengo privilegios de admisión en los siguientes hospitales:
3288 Moanalua Road, Honolulu, HI 96819
Medición de la calidad de atención en nuestros hospitales: (PDF)
Si desea encontrar:
el horario de atención de un proveedor, busque en nuestro directorio de centros de atención
los proveedores incluidos en su plan o que aceptan pacientes nuevos, llame al 1-800-966-5955 (sin costo) o al 711 (línea TTY para personas con problemas auditivos o del habla)
La información de este directorio en línea se actualiza periódicamente. La disponibilidad de médicos, hospitales, proveedores y servicios puede cambiar.
Kaiser Permanente toma en cuenta los mismos niveles de calidad, la experiencia del miembro o los costos para seleccionar a los profesionales de la salud y los centros de atención en los planes del nivel Silver del Mercado de Seguros Médicos, como lo hace para todos los demás productos y líneas de negocios de KFHP (Kaiser Foundation Health Plan). Es posible que las medidas incluyan, entre otras, el rendimiento de Healthcare Effectiveness Data and Information Set (HEDIS)/Consumer Assessment of Healthcare Providers and Systems (CAHPS), las quejas de los miembros/pacientes, las calificaciones de seguridad del paciente, las medidas de calidad del hospital y la necesidad geográfica. Los miembros inscritos en los planes del Mercado de Seguros Médicos de KFHP tienen acceso a todos los proveedores del cuidado de la salud profesionales, institucionales y complementarios que participan en la red de proveedores contratados de los planes de KFHP, de acuerdo con los términos del plan de cobertura de KFHP de los miembros. Todos los médicos del grupo médico de Kaiser Permanente y los médicos de la red deben seguir los mismos procesos de revisión de calidad y certificaciones.
Kaiser Permanente aplica los mismos criterios en cuanto a la distribución geográfica para seleccionar los hospitales en los planes del Mercado de Seguros Médicos y en cuanto a todos los demás productos y líneas de negocio de Kaiser Foundation Health Plan (KFHP).
La información acerca de un profesional de la salud nos la proporciona el profesional de la salud o se obtiene en el proceso de certificación de credenciales. Si desea obtener información más actualizada sobre la licencia de un profesional de la salud, llame al Centro de Recursos del Consumidor (Consumer Resource Center) del Departamento de Comercio y Asuntos del Consumidor de Hawaii (Hawaii Department of Commerce and Consumer Affairs) al (808) 587-3295 o visite su sitio web (en inglés), o llame al Centro de Servicio al Cliente (Customer Service Center) de Kaiser Permanente al (808) 432-5955 (para Oahu) o al 1-800-966-5955 (sin costo, para las islas vecinas). Para las personas sordas, con problemas auditivos o del habla, llame al 1-800-966-5955 o al 711 (línea TTY).
Esta página fue actualizada por última vez el:

03/18/2019