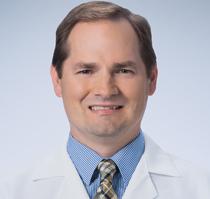 Mi especialidad:
Obstetrics-Gynecology (Ob-Gyn)
Mi afiliación de proveedor:
Proveedor de Kaiser Permanente
Idioma que hablo: English
Sexo: Hombre
Dónde ejerzo mi práctica médica
Esta información no está disponible en este momento.
Esta información no está disponible en este momento.
Servicios disponibles
Servicios de emergencia
Servicios de atención urgente
Servicios fuera del horario normal
Servicios de farmacia
Servicios no disponibles
Sin servicios de emergencia
Sin servicios de atención urgente
Sin servicios fuera del horario normal
Sin servicios de farmacia
Esta información no está disponible en este momento.
Map ends
Acerca de mí
I was born in Illinois and raised on a farm. After attending Northwestern High School in Illinois, I spent seven eye-opening years traveling around the world with the U.S. Navy. I went to Western Illinois University for my Bachelor of Science and then to the University of Illinois for my medical training. I did my ob-gyn residency at the University of Illinois/St. Francis Medical Center, where I was chief resident, and I'm now certified by the American Board of Obstetrics and Gynecology.

I met my wife when I was in college. We married on Maui and immediately began planning for a permanent move to this wonderful place. Along with my calling as a physician, my family is a driving force in my life. I hope to leave the world a better place for my children and grandchildren.
Acerca de mi práctica médica
There's nothing more rewarding to me than the feeling I get when I'm helping to cure someone's disease or improve someone's quality of life, either medically or surgically. The diversity of cases that arise in an obstetrics and gynecology practice provide interesting and challenging situations on a daily basis. My special interests include pregnancy care, and pelvic floor disorders, and hysterectomy.
To stay current in my field and in medicine generally, I read various medical journals, access online resources for physicians, attend professional conferences locally and on the mainland, participate in continuing education programs, and consult with my colleagues both within and outside of my specialty. My membership in the American Congress of Obstetricians and Gynecologists also exposes me to the latest developments and recommendations.
At the Hawaii Permanente Medical Group I found a spirit of collegiality and a team approach to caring for patients. It's exciting to be part of such a great group of medical providers with a long history of delivering excellent care.
As I see it, one of my primary purposes as an ob-gyn doctor is to provide my patients with the best treatment options appropriate to their situations and to honor their choices.
I believe that being respectful, courteous, and compassionate is key to building relationships. I try to always treat my patients and their family members as I would want my own family to be treated. My goal is for my patients and their families to walk out the door feeling heard, cared for, and satisfied with their visits.
Cómo vivo bien
Long walks, laughing, beach activities, and getting into the ocean whenever possible serve as a fountain of youth for me. Football also helps keep me fit. Mostly, just spending time with my wife and two wonderful children, regardless of what we're doing, is where my heart is.
Read More
Read Less
Mi consultorio
Requisitos para una remisión
No necesita una remisión para ver a este proveedor.
Read More
Read Less
Grupos médicos y planes
Hawaii Permanente Medical Group
80 Mahalani Street, Wailuku, HI 96793
List Header Plans Accepted
Este proveedor acepta todos los planes de salud de Kaiser Permanente. Obtenga más información.

Información de contacto
24-hour prescription refill
808-643-7979
Appointment cancellations
808-243-6000
Behavioral Health Services
808-243-6420
Information and appointments
808-243-6000
Member Services
1-800-966-5955 (toll free)
Mi formación, certificados y licencias
Escuela de medicina
University of Illinois at Chicago
Formación médica
Internship
OB/GYN
University of Illinois College of Medicine Peoria

Peoria , IL
Residency
OB/GYN
University of Illinois College of Medicine Peoria

Peoria , IL
Se unió a Permanente Medical Group
2017
Identificación del proveedor
16777
Read More
Read Less
Mis hospitales
Tengo privilegios de admisión en los siguientes hospitales:
3288 Moanalua Road, Honolulu, HI 96819
Medición de la calidad de atención en nuestros hospitales: (PDF)
Si desea encontrar:
el horario de atención de un proveedor, busque en nuestro directorio de centros de atención
los proveedores incluidos en su plan o que aceptan pacientes nuevos, llame al 1-800-966-5955 (sin costo) o al 711 (línea TTY para personas con problemas auditivos o del habla)
La información de este directorio en línea se actualiza periódicamente. La disponibilidad de médicos, hospitales, proveedores y servicios puede cambiar.
Kaiser Permanente toma en cuenta los mismos niveles de calidad, la experiencia del miembro o los costos para seleccionar a los profesionales de la salud y los centros de atención en los planes del nivel Silver del Mercado de Seguros Médicos, como lo hace para todos los demás productos y líneas de negocios de KFHP (Kaiser Foundation Health Plan). Es posible que las medidas incluyan, entre otras, el rendimiento de Healthcare Effectiveness Data and Information Set (HEDIS)/Consumer Assessment of Healthcare Providers and Systems (CAHPS), las quejas de los miembros/pacientes, las calificaciones de seguridad del paciente, las medidas de calidad del hospital y la necesidad geográfica. Los miembros inscritos en los planes del Mercado de Seguros Médicos de KFHP tienen acceso a todos los proveedores del cuidado de la salud profesionales, institucionales y complementarios que participan en la red de proveedores contratados de los planes de KFHP, de acuerdo con los términos del plan de cobertura de KFHP de los miembros. Todos los médicos del grupo médico de Kaiser Permanente y los médicos de la red deben seguir los mismos procesos de revisión de calidad y certificaciones.
Kaiser Permanente aplica los mismos criterios en cuanto a la distribución geográfica para seleccionar los hospitales en los planes del Mercado de Seguros Médicos y en cuanto a todos los demás productos y líneas de negocio de Kaiser Foundation Health Plan (KFHP).
La información acerca de un profesional de la salud nos la proporciona el profesional de la salud o se obtiene en el proceso de certificación de credenciales. Si desea obtener información más actualizada sobre la licencia de un profesional de la salud, llame al Centro de Recursos del Consumidor (Consumer Resource Center) del Departamento de Comercio y Asuntos del Consumidor de Hawaii (Hawaii Department of Commerce and Consumer Affairs) al (808) 587-3295 o visite su sitio web (en inglés), o llame al Centro de Servicio al Cliente (Customer Service Center) de Kaiser Permanente al (808) 432-5955 (para Oahu) o al 1-800-966-5955 (sin costo, para las islas vecinas). Para las personas sordas, con problemas auditivos o del habla, llame al 1-800-966-5955 o al 711 (línea TTY).
Esta página fue actualizada por última vez el:

08/17/2019