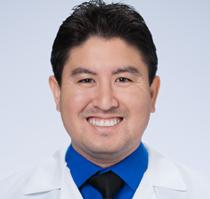 System Error
The information is not available
Mi especialidad:
Internal Medicine
Mi afiliación de proveedor:
Proveedor de Kaiser Permanente
Idioma que hablo: English
Sexo: Hombre
Dónde ejerzo mi práctica médica
Esta información no está disponible en este momento.
Esta información no está disponible en este momento.
Servicios disponibles
Servicios de emergencia
Servicios de atención urgente
Servicios fuera del horario normal
Servicios de farmacia
Servicios no disponibles
Sin servicios de emergencia
Sin servicios de atención urgente
Sin servicios fuera del horario normal
Sin servicios de farmacia
Esta información no está disponible en este momento.
Map ends
Acerca de mí
Born on Oahu and raised in Mililani, I am a graduate of the Kamehameha Schools, the University of Hawaii at Manoa, and the John A. Burns School of Medicine (JABSOM).My tutu (grandfather) inspired me to honor the Hawaiian culture and to pass my heritage on to the next generation. He stressed the importance of ohana (family) and encouraged me to learn the Hawaiian language. In his last years he was the caretaker of the Queen Liliuokalani Children's Center in Nanakuli. Now, a decade after he passed, I am blessed to be a practicing physician in Nanakuli at the Nanaikeola Clinic. My family and I make the Hawaiian language and culture a part of our daily lives.Staying in Hawaii for my medical education was one of the best decisions I've made. The communities, patients, and families I work with have helped to make me the kauka (medical doctor) I am today.
Acerca de mi práctica médica
Through the Department of Native Hawaiian Health as well as community organizations such as Protect Kahoolawe Ohana, I learned about health disparities that Native Hawaiians and other Pacific peoples experience. There is a large population of the medically underserved in our own backyards. Although these people exhibit some of the highest rates of hypertension, diabetes, heart diease, and obesity, there are few physicians native to these groups. As an internal medicine doctor of Hawaiian ancestry I am able to help meet this need.I am board certified by the American Board of Internal Medicine and am currently an assistant clinical professor in medicine at JABSOM. My professional activities include membership in the Ahahui o na Kauka, the American College of Physicians, and the American Medical Association.Following my training in the University of Hawaii Internal Medicine Residency Program I served as chief medical resident. This experience provided tools that assist me in being a lifelong learner and in continuing to pursue my interest in medical education.Joining the Hawaii Permanente Medical Group has allowed me to practice alongside great colleagues and staff. Working at Nanaikeola, I am privileged to practice medicine on the beautiful Waianae Coast amidst the largest population of Native Hawaiians in the world.Taking care of someone's health is more than treating physical ailments or making numbers look good. Health encompasses spiritual well-being, ohana, and culture. One thing I enjoy most about medicine is the relationships I build with my patients and their families, and I look forward to the moolelo (stories) they tell me every day.
Cómo vivo bien
To stay physically and mentally healthy, I spend time with my extended family and friends and try to stay in touch with the aina (the land) and kai (the ocean). My faith is a big part of my spiritual health. I also try to ai pono (eat healthier) and to exercise. To re-charge my battery, I like to go holoholo (out and about for fun), hunting, and fishing.
Read More
Read Less
Mi consultorio
Requisitos para una remisión
No necesita una remisión para ver a este proveedor.
Read More
Read Less
Grupos médicos y planes
Hawaii Permanente Medical Group
87-2116 Farrington Highway, Waianae, HI 96792
List Header Plans Accepted
Este proveedor acepta todos los planes de salud de Kaiser Permanente. Obtenga más información.

Información de contacto
24-hour prescription refill
808-643-7979
Appointment cancellations
808-432-2000
Behavioral Health Services
808-432-7600
Information and appointments
808-432-2000
Member Services
1-800-966-5955 (toll free)
Mi formación, certificados y licencias
Escuela de medicina
University of Hawaii
Formación médica
Internship
Internal Medicine
University of Hawaii Internal Medicine Residency Program

Honolulu , HI
Residency
internal Medicine
University of Hawaii Internal Medicine Residency Program

Honolulu , HI
Se unió a Permanente Medical Group
2014
Identificación del proveedor
13805
Read More
Read Less
Mis hospitales
Esta información no está disponible en este momento.
Si desea encontrar:
el horario de atención de un proveedor, busque en nuestro directorio de centros de atención
los proveedores incluidos en su plan o que aceptan pacientes nuevos, llame al 1-800-966-5955 (sin costo) o al 711 (línea TTY para personas con problemas auditivos o del habla)
La información de este directorio en línea se actualiza periódicamente. La disponibilidad de médicos, hospitales, proveedores y servicios puede cambiar.
Kaiser Permanente toma en cuenta los mismos niveles de calidad, la experiencia del miembro o los costos para seleccionar a los profesionales de la salud y los centros de atención en los planes del nivel Silver del Mercado de Seguros Médicos, como lo hace para todos los demás productos y líneas de negocios de KFHP (Kaiser Foundation Health Plan). Es posible que las medidas incluyan, entre otras, el rendimiento de Healthcare Effectiveness Data and Information Set (HEDIS)/Consumer Assessment of Healthcare Providers and Systems (CAHPS), las quejas de los miembros/pacientes, las calificaciones de seguridad del paciente, las medidas de calidad del hospital y la necesidad geográfica. Los miembros inscritos en los planes del Mercado de Seguros Médicos de KFHP tienen acceso a todos los proveedores del cuidado de la salud profesionales, institucionales y complementarios que participan en la red de proveedores contratados de los planes de KFHP, de acuerdo con los términos del plan de cobertura de KFHP de los miembros. Todos los médicos del grupo médico de Kaiser Permanente y los médicos de la red deben seguir los mismos procesos de revisión de calidad y certificaciones.
Kaiser Permanente aplica los mismos criterios en cuanto a la distribución geográfica para seleccionar los hospitales en los planes del Mercado de Seguros Médicos y en cuanto a todos los demás productos y líneas de negocio de Kaiser Foundation Health Plan (KFHP).
La información acerca de un profesional de la salud nos la proporciona el profesional de la salud o se obtiene en el proceso de certificación de credenciales. Si desea obtener información más actualizada sobre la licencia de un profesional de la salud, llame al Centro de Recursos del Consumidor (Consumer Resource Center) del Departamento de Comercio y Asuntos del Consumidor de Hawaii (Hawaii Department of Commerce and Consumer Affairs) al (808) 587-3295 o visite su sitio web (en inglés), o llame al Centro de Servicio al Cliente (Customer Service Center) de Kaiser Permanente al (808) 432-5955 (para Oahu) o al 1-800-966-5955 (sin costo, para las islas vecinas). Para las personas sordas, con problemas auditivos o del habla, llame al 1-800-966-5955 o al 711 (línea TTY).
Esta página fue actualizada por última vez el:

02/19/2020