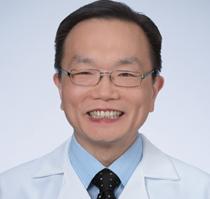 System Error
The information is not available
Mi especialidad:
Gastroenterology
Mi afiliación de proveedor:
Proveedor de Kaiser Permanente
Idioma que hablo: English
Sexo: Hombre
Es necesaria una remisión.
Dónde ejerzo mi práctica médica
Esta información no está disponible en este momento.
Esta información no está disponible en este momento.
Servicios disponibles
Servicios de emergencia
Servicios de atención urgente
Servicios fuera del horario normal
Servicios de farmacia
Servicios no disponibles
Sin servicios de emergencia
Sin servicios de atención urgente
Sin servicios fuera del horario normal
Sin servicios de farmacia
Esta información no está disponible en este momento.
Map ends
Acerca de mí
I am originally from South Korea. When my family and I immigrated to the United States, times were very different. We were in a country with an entirely different language, culture, and attitude. Ours was the only Asian family in my neighborhood. It was during those times that my parents taught me how to sharpen my skills of diligence, perseverance, and preparation.These skills helped me to attend medical school at the University of Illinois in Chicago, where I also did my internship in internal medicine and residency in gastroenterology.
Acerca de mi práctica médica
I appreciate being a gastroenterologist because it is such a fulfilling field in which to practice. The gastrointestinal tract is basic to life, yet eating means so much more. It is social, pleasurable, symbolic, and traditional. It can augment joy but can also amplify sorrow, echoing one's emotional state. Abraham Lincoln has written, "Give me six hours to chop down a tree and I will spend the first four sharpening the axe." Being a gastroenterologist has allowed me to hone this principle and apply it to the care of patients. It is a fascinating field because it combines variegated organs into one discipline, and it requires selecting the "right tool for the right job."Melding endoscopic evaluation with a patient's symptoms allows me to do things that may not have been thought possible in the past. Technology such as colonoscopy provides the ability to prevent and even treat early cancer, something many other fields of medicine cannot offer. We can not only screen for cancer, but we have the potential to also treat diseases at the same time, all without surgery. Kaiser Permanente's integrated system of care and its electronic health record system have been a boon to making my tools sharper. The entire health record is available at the time of procedures and consultations. Labs, radiology results, as well as notes from a patient's primary care physicians and other consultants, are easily accessible. This often provides a deeper understanding of an individual's problems and allows us to potentially glean additional clues to a diagnosis or treatment from previously unrelated results or opinions. Presently, I am chief of the Department of Gastroenterology. I am a member of the American Society for Gastrointestinal Endoscopy, American Gastroenterological Association and Society of Gastrointestinal Intervention. I have published in Gastrointestinal Endoscopy, and am board certified in gastroenterology by the American Board of Internal Medicine. I continue to keep up to date with advances in my field by reading journals from our professional societies as well as trying to attend conferences that include international leaders in my specialty. This way, I am able to garner insight from advances beyond the United States.
Cómo vivo bien
I enjoy spending time with my family, no matter how thrilling or mundane the activity. Drawing and the visual arts have been hobbies of mine since I was young, and I hope to continue these for many years to come. I'm also a kid at heart and enjoy tinkering with computers, playing video games, and dreaming of someday inventing the "next big thing."
Read More
Read Less
Mi consultorio
Requisitos para una remisión
Necesita una remisión para ver a este proveedor.
Read More
Read Less
Grupos médicos y planes
Hawaii Permanente Medical Group
2828 Paa Street, Honolulu, HI 96819
List Header Plans Accepted
Este proveedor acepta todos los planes de salud de Kaiser Permanente. Obtenga más información.

Información de contacto
24-hour prescription refill
808-643-7979
Appointment cancellations
808-432-2000
Behavioral Health Services
808-432-7600
Information and appointments
808-432-2000
Member Services
1-800-966-5955 (toll free)
Mi formación, certificados y licencias
Escuela de medicina
University of Illinois @ Chicago
Formación médica
Internship
Internal Medicine
University of Illinois @ Chicago

Chicago , IL
Residency
Gastroenterology
University of Illinois @ Chicago

Chicago , IL
Se unió a Permanente Medical Group
2008
Identificación del proveedor
9563
Read More
Read Less
Mis hospitales
Tengo privilegios de admisión en los siguientes hospitales:
3288 Moanalua Road, Honolulu, HI 96819
Medición de la calidad de atención en nuestros hospitales: (PDF)
Si desea encontrar:
el horario de atención de un proveedor, busque en nuestro directorio de centros de atención
los proveedores incluidos en su plan o que aceptan pacientes nuevos, llame al 1-800-966-5955 (sin costo) o al 711 (línea TTY para personas con problemas auditivos o del habla)
La información de este directorio en línea se actualiza periódicamente. La disponibilidad de médicos, hospitales, proveedores y servicios puede cambiar.
Kaiser Permanente toma en cuenta los mismos niveles de calidad, la experiencia del miembro o los costos para seleccionar a los profesionales de la salud y los centros de atención en los planes del nivel Silver del Mercado de Seguros Médicos, como lo hace para todos los demás productos y líneas de negocios de KFHP (Kaiser Foundation Health Plan). Es posible que las medidas incluyan, entre otras, el rendimiento de Healthcare Effectiveness Data and Information Set (HEDIS)/Consumer Assessment of Healthcare Providers and Systems (CAHPS), las quejas de los miembros/pacientes, las calificaciones de seguridad del paciente, las medidas de calidad del hospital y la necesidad geográfica. Los miembros inscritos en los planes del Mercado de Seguros Médicos de KFHP tienen acceso a todos los proveedores del cuidado de la salud profesionales, institucionales y complementarios que participan en la red de proveedores contratados de los planes de KFHP, de acuerdo con los términos del plan de cobertura de KFHP de los miembros. Todos los médicos del grupo médico de Kaiser Permanente y los médicos de la red deben seguir los mismos procesos de revisión de calidad y certificaciones.
Kaiser Permanente aplica los mismos criterios en cuanto a la distribución geográfica para seleccionar los hospitales en los planes del Mercado de Seguros Médicos y en cuanto a todos los demás productos y líneas de negocio de Kaiser Foundation Health Plan (KFHP).
La información acerca de un profesional de la salud nos la proporciona el profesional de la salud o se obtiene en el proceso de certificación de credenciales. Si desea obtener información más actualizada sobre la licencia de un profesional de la salud, llame al Centro de Recursos del Consumidor (Consumer Resource Center) del Departamento de Comercio y Asuntos del Consumidor de Hawaii (Hawaii Department of Commerce and Consumer Affairs) al (808) 587-3295 o visite su sitio web (en inglés), o llame al Centro de Servicio al Cliente (Customer Service Center) de Kaiser Permanente al (808) 432-5955 (para Oahu) o al 1-800-966-5955 (sin costo, para las islas vecinas). Para las personas sordas, con problemas auditivos o del habla, llame al 1-800-966-5955 o al 711 (línea TTY).
Esta página fue actualizada por última vez el:

02/19/2020