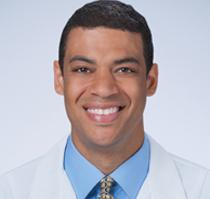 Mi especialidad:
Orthopaedic Surgery
Mi afiliación de proveedor:
Proveedor de Kaiser Permanente
Idioma que hablo: English
Sexo: Hombre
Es necesaria una remisión.
Dónde ejerzo mi práctica médica
Esta información no está disponible en este momento.
Esta información no está disponible en este momento.
Servicios disponibles
Servicios de emergencia
Servicios de atención urgente
Servicios fuera del horario normal
Servicios de farmacia
Servicios no disponibles
Sin servicios de emergencia
Sin servicios de atención urgente
Sin servicios fuera del horario normal
Sin servicios de farmacia
Esta información no está disponible en este momento.
Map ends
Acerca de mí
I grew up in Massachusetts as the son of two immigrants: my father is from Nigeria and my mother is from Germany. My father came from humble beginnings, but he knew from an early age that he wanted to be a surgeon. After college he received a scholarship to study medicine in Germany, where he met my mother. Together they immigrated to the United States, where my two siblings and I were born. While attending college in Boston, I met my future wife, who was born and raised in Honolulu. She patiently endured several cold winters on the East Coast as I completed my medical education, with the promise that we would eventually settle in Hawaii.
Acerca de mi práctica médica
As the son of two doctors, I was exposed to the joys of medicine at an early age. I loved watching the great relationships that parents and children had with my mother, a primary care pediatrician. I was also impressed with the calm confidence that my father displayed in the operating room as a cardiothoracic surgeon. I was introduced to the field of orthopedic surgery when I injured myself playing lacrosse in college. As my surgeon patiently described the procedure by which he would repair the injury and restore my function, my fear and disappointment turned into resolve and hope. It was at this moment that I knew I'd found my specialty! In my practice I enjoy working with my hands, just as my first orthopedic surgeon did. My clinical interests center on orthopaedic trauma (fractures) and total hip replacement. I am a member of the American Academy of Orthopaedic Surgeons, the Hawaii Orthopaedic Association, and the Orthopaedic Trauma Association. I have given presentations at professional meetings and published articles in professional journals on a variety of topics within the field of orthopaedics. The Hawaii Permanente Medical Group offers everything that I was looking for in a medical practice, including a collegial working environment, the opportunity to provide the highest quality of care, and the opportunity to conduct research that will advance the practice of orthopedic surgery, all in a place where my family is happy to be living! I strive to do my very best for my patients at each step of the way, not just during the procedure itself but also prior to surgery and during the recovery process as well.
Cómo vivo bien
My current athletic endeavors include running, basketball, and weight lifting. I am also looking forward to swimming and biking across this beautiful island. I still root for my home teams -- go Pats, Celtics, and Sox! Outside of work I enjoy going to the beach, hiking, and dancing with my wife and two daughters.
Read More
Read Less
Mi consultorio
Requisitos para una remisión
Necesita una remisión para ver a este proveedor.
Read More
Read Less
Grupos médicos y planes
Hawaii Permanente Medical Group
3288 Moanalua Road, Honolulu, HI 96819
List Header Plans Accepted
Este proveedor acepta todos los planes de salud de Kaiser Permanente. Obtenga más información.

Información de contacto
24-hour pharmacy
808-643-7979
24-hour prescription refill
808-643-7979
24/7 Advice (Hawaii Island)
808-334-4400
24/7 Advice (Kauai)
808-246-5600
24/7 Advice (Maui)
808-243-6000
24/7 Advice (Oahu)
808-432-2000
Clinic Specialty appointments (Neighbor islands)
1-877-432-8970 (toll free)
Clinic Specialty appointments (Oahu)
808-432-8000
Clinic appointment cancellation
808-432-7800
General information
808-432-0000
Member Services
1-800-966-5955 (toll free)
Same Day Surgery
808-432-8490
Mi formación, certificados y licencias
Escuela de medicina
Harvard Medical School
Formación médica
Residency
Orthopedic Surgery
Harvard Residency Program/Massachusetts General Hospital

Boston , MA
Fellowship
Orthopedic Surgery Trauma Fellowship
University of Maryland at Baltimore, Department of Orthopaedic TraumaShock Trauma Center

Baltimore , MD
Se unió a Permanente Medical Group
2013
Identificación del proveedor
13512
Read More
Read Less
Mis hospitales
Tengo privilegios de admisión en los siguientes hospitales:
3288 Moanalua Road, Honolulu, HI 96819
Medición de la calidad de atención en nuestros hospitales: (PDF)
Si desea encontrar:
el horario de atención de un proveedor, busque en nuestro directorio de centros de atención
los proveedores incluidos en su plan o que aceptan pacientes nuevos, llame al 1-800-966-5955 (sin costo) o al 711 (línea TTY para personas con problemas auditivos o del habla)
La información de este directorio en línea se actualiza periódicamente. La disponibilidad de médicos, hospitales, proveedores y servicios puede cambiar.
Kaiser Permanente toma en cuenta los mismos niveles de calidad, la experiencia del miembro o los costos para seleccionar a los profesionales de la salud y los centros de atención en los planes del nivel Silver del Mercado de Seguros Médicos, como lo hace para todos los demás productos y líneas de negocios de KFHP (Kaiser Foundation Health Plan). Es posible que las medidas incluyan, entre otras, el rendimiento de Healthcare Effectiveness Data and Information Set (HEDIS)/Consumer Assessment of Healthcare Providers and Systems (CAHPS), las quejas de los miembros/pacientes, las calificaciones de seguridad del paciente, las medidas de calidad del hospital y la necesidad geográfica. Los miembros inscritos en los planes del Mercado de Seguros Médicos de KFHP tienen acceso a todos los proveedores del cuidado de la salud profesionales, institucionales y complementarios que participan en la red de proveedores contratados de los planes de KFHP, de acuerdo con los términos del plan de cobertura de KFHP de los miembros. Todos los médicos del grupo médico de Kaiser Permanente y los médicos de la red deben seguir los mismos procesos de revisión de calidad y certificaciones.
Kaiser Permanente aplica los mismos criterios en cuanto a la distribución geográfica para seleccionar los hospitales en los planes del Mercado de Seguros Médicos y en cuanto a todos los demás productos y líneas de negocio de Kaiser Foundation Health Plan (KFHP).
La información acerca de un profesional de la salud nos la proporciona el profesional de la salud o se obtiene en el proceso de certificación de credenciales. Si desea obtener información más actualizada sobre la licencia de un profesional de la salud, llame al Centro de Recursos del Consumidor (Consumer Resource Center) del Departamento de Comercio y Asuntos del Consumidor de Hawaii (Hawaii Department of Commerce and Consumer Affairs) al (808) 587-3295 o visite su sitio web (en inglés), o llame al Centro de Servicio al Cliente (Customer Service Center) de Kaiser Permanente al (808) 432-5955 (para Oahu) o al 1-800-966-5955 (sin costo, para las islas vecinas). Para las personas sordas, con problemas auditivos o del habla, llame al 1-800-966-5955 o al 711 (línea TTY).
Esta página fue actualizada por última vez el:

02/17/2019