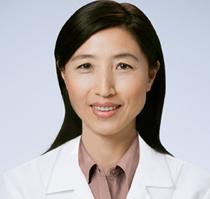 System Error
The information is not available
Mi especialidad:
Obstetrics-Gynecology (Ob-Gyn)
Mi afiliación de proveedor:
Proveedor de Kaiser Permanente
Idioma que hablo: English, Mandarin
Sexo: Mujer
Dónde ejerzo mi práctica médica
Esta información no está disponible en este momento.
Esta información no está disponible en este momento.
Servicios disponibles
Servicios de emergencia
Servicios de atención urgente
Servicios fuera del horario normal
Servicios de farmacia
Servicios no disponibles
Sin servicios de emergencia
Sin servicios de atención urgente
Sin servicios fuera del horario normal
Sin servicios de farmacia
Esta información no está disponible en este momento.
Map ends
Acerca de mí
I was born and raised in China. I earned my medical degree at Liaoning Medical University and my doctorate at Shanghai Medical College of Fudan University. While at Fudan, I treated infertility patients and did basic science and clinical research in reproductive endocrinology. I came to the United States to pursue further my training. I completed my ob-gyn residency at Louisiana State University Health Sciences Center New Orleans and my postdoctoral fellowship in reproductive endocrinology and infertility at the University of California, San Diego. While living in California, I visited Hawaii and fell in love with the relaxed, friendly atmosphere and beautiful surroundings. I cannot thank my family enough, especially my husband, for all the support and love they've given me over the years. I never would have made it here without them.
Acerca de mi práctica médica
My mother was a physician in China. While growing up, I admired her greatly and always knew that I wanted to follow in her footsteps. When I was choosing a women's health sub-specialty, I found reproductive endocrinology and infertility to be the most fascinating, as it combined my love for basic science, ongoing innovation, and the chance to have a significant positive impact on patients' lives. I've presented and written articles on a variety of topics, including polycystic ovary syndrome, genetics of hormones, and reproductive functions. I keep up-to-date in my field by reading medical literature and attending lectures, conferences, and workshops. My passion for learning keeps me happily engaged in continuous professional education. I enjoy working at the Hawaii Permanente Medical Group because of its excellent support system, availability of specialists to confer with in all fields, electronic medical record, and other current technology, all of which allow me to provide the best clinical care I can. Teaching is another of my interests, and here I have the great opportunity and privilege to mentor and work with residents. My philosophy of care includes paying close attention to my patients' needs and providing them with helpful information that allows them to make informed decisions regarding their care. Lastly, I believe that the importance of support from significant others shouldn't be overlooked.
Cómo vivo bien
Outside of work I try to keep up with my family's various outdoor interests. To stay fit and happy, I exercise, eat a balanced diet, travel, and spend quality time with family and friends.
Read More
Read Less
Mi consultorio
Requisitos para una remisión
No necesita una remisión para ver a este proveedor.
Read More
Read Less
Grupos médicos y planes
Hawaii Permanente Medical Group
1010 Pensacola Street, Honolulu, HI 96814
List Header Plans Accepted
Este proveedor acepta todos los planes de salud de Kaiser Permanente. Obtenga más información.

Información de contacto
24-hour prescription refill
808-643-7979
Appointment cancellations
808-432-2000
Behavioral Health Services
808-432-7600
Information and appointments
808-432-2000
Member Services
1-800-966-5955 (toll free)
Mi formación, certificados y licencias
Escuela de medicina
Liaoning Medical University

Jinzhou, Liaoning Pr

, China
Formación médica
Residency
OB GYN
Louisiana State University Health Sciences Center at New Orleans

New Orleans , LA
Fellowship
Repro Endocrinology/Infertility
University of California San Deigo School of Medicine

La Jolla , CA
Se unió a Permanente Medical Group
2015
Identificación del proveedor
14962
Read More
Read Less
Mis hospitales
Tengo privilegios de admisión en los siguientes hospitales:
3288 Moanalua Road, Honolulu, HI 96819
Medición de la calidad de atención en nuestros hospitales: (PDF)
Si desea encontrar:
el horario de atención de un proveedor, busque en nuestro directorio de centros de atención
los proveedores incluidos en su plan o que aceptan pacientes nuevos, llame al 1-800-966-5955 (sin costo) o al 711 (línea TTY para personas con problemas auditivos o del habla)
La información de este directorio en línea se actualiza periódicamente. La disponibilidad de médicos, hospitales, proveedores y servicios puede cambiar.
Kaiser Permanente toma en cuenta los mismos niveles de calidad, la experiencia del miembro o los costos para seleccionar a los profesionales de la salud y los centros de atención en los planes del nivel Silver del Mercado de Seguros Médicos, como lo hace para todos los demás productos y líneas de negocios de KFHP (Kaiser Foundation Health Plan). Es posible que las medidas incluyan, entre otras, el rendimiento de Healthcare Effectiveness Data and Information Set (HEDIS)/Consumer Assessment of Healthcare Providers and Systems (CAHPS), las quejas de los miembros/pacientes, las calificaciones de seguridad del paciente, las medidas de calidad del hospital y la necesidad geográfica. Los miembros inscritos en los planes del Mercado de Seguros Médicos de KFHP tienen acceso a todos los proveedores del cuidado de la salud profesionales, institucionales y complementarios que participan en la red de proveedores contratados de los planes de KFHP, de acuerdo con los términos del plan de cobertura de KFHP de los miembros. Todos los médicos del grupo médico de Kaiser Permanente y los médicos de la red deben seguir los mismos procesos de revisión de calidad y certificaciones.
Kaiser Permanente aplica los mismos criterios en cuanto a la distribución geográfica para seleccionar los hospitales en los planes del Mercado de Seguros Médicos y en cuanto a todos los demás productos y líneas de negocio de Kaiser Foundation Health Plan (KFHP).
La información acerca de un profesional de la salud nos la proporciona el profesional de la salud o se obtiene en el proceso de certificación de credenciales. Si desea obtener información más actualizada sobre la licencia de un profesional de la salud, llame al Centro de Recursos del Consumidor (Consumer Resource Center) del Departamento de Comercio y Asuntos del Consumidor de Hawaii (Hawaii Department of Commerce and Consumer Affairs) al (808) 587-3295 o visite su sitio web (en inglés), o llame al Centro de Servicio al Cliente (Customer Service Center) de Kaiser Permanente al (808) 432-5955 (para Oahu) o al 1-800-966-5955 (sin costo, para las islas vecinas). Para las personas sordas, con problemas auditivos o del habla, llame al 1-800-966-5955 o al 711 (línea TTY).
Esta página fue actualizada por última vez el:

09/17/2019