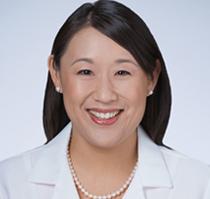 System Error
The information is not available
Mi especialidad:
Endocrinology
Mi afiliación de proveedor:
Kaiser Permanente provider
Idioma que hablo: English
Sexo: Mujer
Es necesaria una remisión.
Dónde ejerzo mi práctica médica
Esta información no está disponible en este momento.
Esta información no está disponible en este momento.
Servicios disponibles
Servicios de emergencia
Servicios de atención urgente
Servicios fuera del horario normal
Servicios de farmacia
Servicios no disponibles
Sin servicios de emergencia
Sin servicios de atención urgente
Sin servicios fuera del horario normal
Sin servicios de farmacia
Esta información no está disponible en este momento.
Map ends
Acerca de mí
I grew up in Honolulu in a medical family. My father was a busy oncologist with a large practice in Hawaii. My mom was a registered nurse who went on to get her doctorate in public health from the University of Hawaii when I was a child. For my father, medicine was a vocation and not just a simple job. He always felt profoundly grateful to be a part of patients' lives, and I feel the same way. After attending Punahou School, I completed college and all of my medical training on the East Coast. I returned home in 2008 and am married to a wonderful lawyer. We have two young girls, and share a lot of joy and laughter at home.
Acerca de mi práctica médica
I love endocrinology because it is a mix of many things. Part of my day is spent talking about motivation and ways to be healthy and prevent complications. Other times, I am involved in curing thyroid or adrenal disease. I find it very satisfying and fulfilling to help people feel better. My colleagues are the best part of practicing with the Hawaii Permanente Medical Group (HPMG). I enjoy working with physicians who are incredibly smart, compassionate, caring, on top of the latest research, and completely devoted to patient care. That is what is unique about the doctors at HPMG—many of us joined HPMG to be able to focus on our love for patient care. Additionally, I feel proud and honored to be part of a group that seeks to provide the highest standards of care for patients and is constantly innovating to deliver even better care. I believe that everyone has a right to good health, and I am committed to improving people's lives through my knowledge, expertise, and compassion. In addition to listening to my patients' health concerns and questions, I love simply sitting down and chatting with them about their families, hobbies, and passions.At HPMG, I am the chief of endocrinology, assistant associate medical director of medical education, and a voting board member of our Board of Directors. I am also on the leadership board of the American Diabetes Society, a Certified Diabetes Educator, and a Fellow of the American Association of Clinical Endocrinologists (AACE). I have presented on diabetes management and prevention to the American Association of Diabetes Educators, and for scientific sessions of the 68th Annual American Diabetes Association. In recent years, I have published articles in Thyroid, Endocrinology and Metabolism Clinics, Nature Clinical Practice Endocrinology & Metabolism, Endocrine Practice, and the European Review for Medical and Pharmacological Sciences.
Cómo vivo bien
I love to swim and run, activities that keep me in shape, give me energy, and alleviate stress. I also really enjoy spending time with my family and gardening, cooking, and listening to music together.
Read More
Read Less
Mi consultorio
Requisitos para una remisión
Necesita una remisión para ver a este proveedor.
Read More
Read Less
Grupos médicos y planes
Hawaii Permanente Medical Group
1010 Pensacola Street, Honolulu, HI 96814
List Header Plans Accepted
Este proveedor acepta todos los planes de salud de Kaiser Permanente. Obtenga más información.

Información de contacto
24-hour prescription refill
808-643-7979
Appointment cancellations
808-432-2000
Behavioral Health Services
808-432-7600
Information and appointments
808-432-2000
Member Services
1-800-966-5955 (toll free)
Mi formación, certificados y licencias
Escuela de medicina
George Washington University School of Medicine
Formación médica
Residency
Internal Medicine
Hospital of the University of Pennsylvania

Philadelphia , PA
Fellowship
Endocrinology
Georgetown University Hospital

Washington , DC
Se unió a Permanente Medical Group
2008
Identificación del proveedor
9546
Read More
Read Less
Mis hospitales
Tengo privilegios de admisión en los siguientes hospitales:
3288 Moanalua Road, Honolulu, HI 96819
Tengo privilegios de admisión en los siguientes hospitales:
Medición de la calidad de atención en nuestros hospitales: (PDF)
Si desea encontrar:
el horario de atención de un proveedor, busque en nuestro directorio de centros de atención
los proveedores incluidos en su plan o que aceptan pacientes nuevos, llame al 1-800-966-5955 (sin costo) o al 711 (línea TTY para personas con problemas auditivos o del habla)
La información de este directorio en línea se actualiza periódicamente. La disponibilidad de médicos, hospitales, proveedores y servicios puede cambiar.
Kaiser Permanente toma en cuenta los mismos niveles de calidad, la experiencia del miembro o los costos para seleccionar a los profesionales de la salud y los centros de atención en los planes del nivel Silver del Mercado de Seguros Médicos, como lo hace para todos los demás productos y líneas de negocios de KFHP (Kaiser Foundation Health Plan). Es posible que las medidas incluyan, entre otras, el rendimiento de Healthcare Effectiveness Data and Information Set (HEDIS)/Consumer Assessment of Healthcare Providers and Systems (CAHPS), las quejas de los miembros/pacientes, las calificaciones de seguridad del paciente, las medidas de calidad del hospital y la necesidad geográfica. Los miembros inscritos en los planes del Mercado de Seguros Médicos de KFHP tienen acceso a todos los proveedores del cuidado de la salud profesionales, institucionales y complementarios que participan en la red de proveedores contratados de los planes de KFHP, de acuerdo con los términos del plan de cobertura de KFHP de los miembros. Todos los médicos del grupo médico de Kaiser Permanente y los médicos de la red deben seguir los mismos procesos de revisión de calidad y certificaciones.
Kaiser Permanente aplica los mismos criterios en cuanto a la distribución geográfica para seleccionar los hospitales en los planes del Mercado de Seguros Médicos y en cuanto a todos los demás productos y líneas de negocio de Kaiser Foundation Health Plan (KFHP).
La información acerca de un profesional de la salud nos la proporciona el profesional de la salud o se obtiene en el proceso de certificación de credenciales. Si desea obtener información más actualizada sobre la licencia de un profesional de la salud, llame al Centro de Recursos del Consumidor (Consumer Resource Center) del Departamento de Comercio y Asuntos del Consumidor de Hawaii (Hawaii Department of Commerce and Consumer Affairs) al (808) 587-3295 o visite su sitio web (en inglés), o llame al Centro de Servicio al Cliente (Customer Service Center) de Kaiser Permanente al (808) 432-5955 (para Oahu) o al 1-800-966-5955 (sin costo, para las islas vecinas). Para las personas sordas, con problemas auditivos o del habla, llame al 1-800-966-5955 o al 711 (línea TTY).
Esta página fue actualizada por última vez el:

07/05/2020