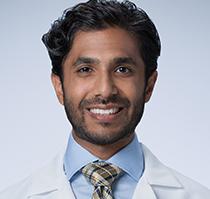 Mi especialidad:
Cardiology
Mi afiliación de proveedor:
Proveedor de Kaiser Permanente
Idioma que hablo: English
Sexo: Hombre
Es necesaria una remisión.
Dónde ejerzo mi práctica médica
Esta información no está disponible en este momento.
Esta información no está disponible en este momento.
Servicios disponibles
Servicios de emergencia
Servicios de atención urgente
Servicios fuera del horario normal
Servicios de farmacia
Servicios no disponibles
Sin servicios de emergencia
Sin servicios de atención urgente
Sin servicios fuera del horario normal
Sin servicios de farmacia
Esta información no está disponible en este momento.
Map ends
Acerca de mí
I was born and raised in New York City and attended New York Medical College for medical school. I then made my first big move, traveling to the misty and cool Pacific Northwest to start an internal medicine internship. I stayed on for residency and a cardiovascular fellowship, all at Oregon Health and Science University in Portland, Oregon. After many great years, but less-than-ideal winters, I saw the light and took the opportunity to chase the sun to Maui. As one of two sons of Indian immigrants to this country, I was fortunate to have parents who valued education, hard work, and who instilled in me an appreciation of family and friends. These have been guiding forces in my life, both personally and professionally.
Acerca de mi práctica médica
Having an early interest in the human condition and traveling the world as a backpacker over the years, I developed an appreciation for the central role that health and wellness play in the productivity and happiness of communities. This is what inspired me to choose medicine as a young adult.
Combating heart disease – the leading cause of death worldwide – is critical in helping us live long and healthy lives. This specialty requires a commitment to lifelong learning on the part of the practitioner, a challenge that I welcome.
To remain current in medicine and in my field, I refer to medical textbooks and journals. I also attend professional conferences and continuing education programs.
My introduction to Kaiser Permanente occurred during my training in the Pacific Northwest. I was impressed by the organization's health care delivery system and the quality of care it provides. Kaiser Permanente has been in Hawaii for many decades and is deeply invested in the health and wellness of its people. The organization's desire to be innovative and its care of the community is very evident.
I consider myself a personal consultant to my patients, helping them to navigate the health care system and to clarify their health and life goals. I aim to provide them expert teaching and care as we develop a long-term relationship. If I understand my patients' life stories and meet the people who are most important to them, I can begin to gain a better understanding of them outside of their illnesses. This helps me know them as part of the larger ʻohana in which we're all connected.
Cómo vivo bien
After many years in Oregon, I have an interest in rock climbing and spending time outdoors. In the present leg of my life's journey, I'm turning my attention to surfing, astronomy, and cooking. And of course, Maui no ka oi!
Read More
Read Less
Mi consultorio
Requisitos para una remisión
Necesita una remisión para ver a este proveedor.
Read More
Read Less
Grupos médicos y planes
Hawaii Permanente Medical Group
80 Mahalani Street, Wailuku, HI 96793
List Header Plans Accepted
Este proveedor acepta todos los planes de salud de Kaiser Permanente. Obtenga más información.

Información de contacto
24-hour prescription refill
808-643-7979
Appointment cancellations
808-243-6000
Behavioral Health Services
808-243-6420
Information and appointments
808-243-6000
Member Services
1-800-966-5955 (toll free)
Mi formación, certificados y licencias
Escuela de medicina
New York Medical College
Formación médica
Internship
Internal Medicine
Oregon Health Sciences University

Portland , OR
Residency
Internal Medicine
Oregon Health Sciences University

Portland , OR
Fellowship
Cardiology
Oregon Health Sciences University

Portland , OR
Se unió a Permanente Medical Group
2016
Identificación del proveedor
15884
Read More
Read Less
Mis hospitales
Tengo privilegios de admisión en los siguientes hospitales:
3288 Moanalua Road, Honolulu, HI 96819
Medición de la calidad de atención en nuestros hospitales: (PDF)
Si desea encontrar:
el horario de atención de un proveedor, busque en nuestro directorio de centros de atención
los proveedores incluidos en su plan o que aceptan pacientes nuevos, llame al 1-800-966-5955 (sin costo) o al 711 (línea TTY para personas con problemas auditivos o del habla)
La información de este directorio en línea se actualiza periódicamente. La disponibilidad de médicos, hospitales, proveedores y servicios puede cambiar.
Kaiser Permanente toma en cuenta los mismos niveles de calidad, la experiencia del miembro o los costos para seleccionar a los profesionales de la salud y los centros de atención en los planes del nivel Silver del Mercado de Seguros Médicos, como lo hace para todos los demás productos y líneas de negocios de KFHP (Kaiser Foundation Health Plan). Es posible que las medidas incluyan, entre otras, el rendimiento de Healthcare Effectiveness Data and Information Set (HEDIS)/Consumer Assessment of Healthcare Providers and Systems (CAHPS), las quejas de los miembros/pacientes, las calificaciones de seguridad del paciente, las medidas de calidad del hospital y la necesidad geográfica. Los miembros inscritos en los planes del Mercado de Seguros Médicos de KFHP tienen acceso a todos los proveedores del cuidado de la salud profesionales, institucionales y complementarios que participan en la red de proveedores contratados de los planes de KFHP, de acuerdo con los términos del plan de cobertura de KFHP de los miembros. Todos los médicos del grupo médico de Kaiser Permanente y los médicos de la red deben seguir los mismos procesos de revisión de calidad y certificaciones.
Kaiser Permanente aplica los mismos criterios en cuanto a la distribución geográfica para seleccionar los hospitales en los planes del Mercado de Seguros Médicos y en cuanto a todos los demás productos y líneas de negocio de Kaiser Foundation Health Plan (KFHP).
La información acerca de un profesional de la salud nos la proporciona el profesional de la salud o se obtiene en el proceso de certificación de credenciales. Si desea obtener información más actualizada sobre la licencia de un profesional de la salud, llame al Centro de Recursos del Consumidor (Consumer Resource Center) del Departamento de Comercio y Asuntos del Consumidor de Hawaii (Hawaii Department of Commerce and Consumer Affairs) al (808) 587-3295 o visite su sitio webExternal Link (en inglés), o llame al Centro de Servicio al Cliente (Customer Service Center) de Kaiser Permanente al (808) 432-5955 (para Oahu) o al 1-800-966-5955 (sin costo, para las islas vecinas). Para las personas sordas, con problemas auditivos o del habla, llame al 1-800-966-5955 o al 711 (línea TTY).
Esta página fue actualizada por última vez el:

01/20/2019