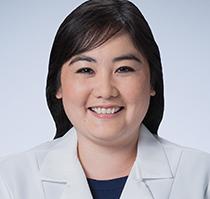 System Error
The information is not available
Mi especialidad:
Family Medicine
Mi afiliación de proveedor:
Proveedor de Kaiser Permanente
Idioma que hablo: English
Sexo: Mujer
Dónde ejerzo mi práctica médica
Esta información no está disponible en este momento.
Esta información no está disponible en este momento.
Servicios disponibles
Servicios de emergencia
Servicios de atención urgente
Servicios fuera del horario normal
Servicios de farmacia
Servicios no disponibles
Sin servicios de emergencia
Sin servicios de atención urgente
Sin servicios fuera del horario normal
Sin servicios de farmacia
Esta información no está disponible en este momento.
Map ends
Acerca de mí
I was born in Honolulu and have lived on Oahu for nearly my entire life. I graduated from Kalani High School and then spent two years at the University of San Francisco before transferring back home to the University of Hawaii. I attended the John A. Burns School of Medicine at UH, did my internship and residency with the University of Hawaii Family Medicine Residency Program, and did a fellowship with the University of Hawaii Geriatric Medicine Fellowship program.
Acerca de mi práctica médica
My mom, a nurse, inspired my interest in the medical field and in caring for others. When I was in high school, my obachan (great-grandmother) developed Alzheimer's. It was difficult for our family to watch her illness progress and eventually take her from us. This reinforced my passion for medicine, both in learning about illness and educating and helping families. I also very much enjoyed human biology.
My love for family medicine developed gradually. Continuity of care and getting to know my patients were what initially drew me to this specialty. I also appreciated the importance of preventive care and the careful management of chronic medical conditions. I found that I enjoyed women's health and that I loved being able to treat an entire family, from seeing a little boy in clinic with his parents, to delivering his newborn sister, to treating his grandparents. Family medicine became the logical choice of specialty for me.
My research on the relationship between the inability to swallow and all-cause mortality was displayed at the Presidential Poster Presentation at an American Geriatric Society Meeting in California as part of the Honolulu Asia Aging Study. I also co-wrote a research paper on the effects of nutritional deficiency on West Nile virus during pregnancy that was published in Virology Journal.
I keep up with current medical research by reading online and paper journals and articles, checking medical websites, getting notices via medical phone apps, and discussing new recommendations with fellow colleagues.
I joined the Hawaii Permanente Medical Group because we share beliefs and goals pertaining to care. I, too, have a passion for helping the whole patient, for providing safe, quality care, and for practicing preventive medicine so that conditions don't worsen and require hospitalization.
My primary philosophy of care, in fact, is to treat the patient in a broad, inclusive manner. This includes addressing social situations, listening to the patient's concerns, doing patient and family education, and anything else that could relate to the person's condition. I try to ensure that the patient understands, agrees with, and is comfortable with any proposed treatment plan. By nature I'm a friendly person. Listening and understanding a person's situation and medical problems helps me to connect with my patients. I also just enjoy talking story with everyone!
Cómo vivo bien
I try to stay healthy by spending time with my family and loved ones, eating together and laughing together. I also run on my treadmill and exercise to workout videos. I enjoy fiction, watching movies, and eating at new places. Once in a while I also enjoy a good shopping day!
Read More
Read Less
Mi consultorio
Requisitos para una remisión
No necesita una remisión para ver a este proveedor.
Read More
Read Less
Grupos médicos y planes
Hawaii Permanente Medical Group
1010 Pensacola Street, Honolulu, HI 96814
List Header Plans Accepted
Este proveedor acepta todos los planes de salud de Kaiser Permanente. Obtenga más información.

Información de contacto
24-hour prescription refill
808-643-7979
Appointment cancellations
808-432-2000
Behavioral Health Services
808-432-7600
Information and appointments
808-432-2000
Member Services
1-800-966-5955 (toll free)
Mi formación, certificados y licencias
Escuela de medicina
University of Hawaii John A. Burns School of Medicine
Formación médica
Internship
Family Medicine
University of Hawaii

Mililani , HI
Residency
Family Medicine
University of Hawaii

Mililani , HI
Fellowship
Geriatric Fellowship
University of Hawaii Geriatric Medicine Program

Honolulu , HI
Se unió a Permanente Medical Group
2014
Identificación del proveedor
13826
Read More
Read Less
Mis hospitales
Esta información no está disponible en este momento.
Si desea encontrar:
el horario de atención de un proveedor, busque en nuestro directorio de centros de atención
los proveedores incluidos en su plan o que aceptan pacientes nuevos, llame al 1-800-966-5955 (sin costo) o al 711 (línea TTY para personas con problemas auditivos o del habla)
La información de este directorio en línea se actualiza periódicamente. La disponibilidad de médicos, hospitales, proveedores y servicios puede cambiar.
Kaiser Permanente toma en cuenta los mismos niveles de calidad, la experiencia del miembro o los costos para seleccionar a los profesionales de la salud y los centros de atención en los planes del nivel Silver del Mercado de Seguros Médicos, como lo hace para todos los demás productos y líneas de negocios de KFHP (Kaiser Foundation Health Plan). Es posible que las medidas incluyan, entre otras, el rendimiento de Healthcare Effectiveness Data and Information Set (HEDIS)/Consumer Assessment of Healthcare Providers and Systems (CAHPS), las quejas de los miembros/pacientes, las calificaciones de seguridad del paciente, las medidas de calidad del hospital y la necesidad geográfica. Los miembros inscritos en los planes del Mercado de Seguros Médicos de KFHP tienen acceso a todos los proveedores del cuidado de la salud profesionales, institucionales y complementarios que participan en la red de proveedores contratados de los planes de KFHP, de acuerdo con los términos del plan de cobertura de KFHP de los miembros. Todos los médicos del grupo médico de Kaiser Permanente y los médicos de la red deben seguir los mismos procesos de revisión de calidad y certificaciones.
Kaiser Permanente aplica los mismos criterios en cuanto a la distribución geográfica para seleccionar los hospitales en los planes del Mercado de Seguros Médicos y en cuanto a todos los demás productos y líneas de negocio de Kaiser Foundation Health Plan (KFHP).
La información acerca de un profesional de la salud nos la proporciona el profesional de la salud o se obtiene en el proceso de certificación de credenciales. Si desea obtener información más actualizada sobre la licencia de un profesional de la salud, llame al Centro de Recursos del Consumidor (Consumer Resource Center) del Departamento de Comercio y Asuntos del Consumidor de Hawaii (Hawaii Department of Commerce and Consumer Affairs) al (808) 587-3295 o visite su sitio web (en inglés), o llame al Centro de Servicio al Cliente (Customer Service Center) de Kaiser Permanente al (808) 432-5955 (para Oahu) o al 1-800-966-5955 (sin costo, para las islas vecinas). Para las personas sordas, con problemas auditivos o del habla, llame al 1-800-966-5955 o al 711 (línea TTY).
Esta página fue actualizada por última vez el:

11/17/2019