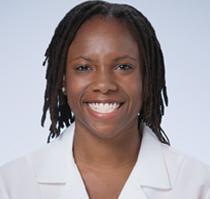 System Error
The information is not available
Mi especialidad:
Hospital Medicine
Mi afiliación de proveedor:
Proveedor de Kaiser Permanente
Idioma que hablo: English
Sexo: Mujer
Es necesaria una remisión.
Dónde ejerzo mi práctica médica
Esta información no está disponible en este momento.
Esta información no está disponible en este momento.
Servicios disponibles
Servicios de emergencia
Servicios de atención urgente
Servicios fuera del horario normal
Servicios de farmacia
Servicios no disponibles
Sin servicios de emergencia
Sin servicios de atención urgente
Sin servicios fuera del horario normal
Sin servicios de farmacia
Esta información no está disponible en este momento.
Map ends
Acerca de mí
I was born and raised in Detroit, Michigan, and am a testimony to the adage, "it takes a village to raise a child." My mother was the centerpiece of my support system, but other family members, friends, neighbors, and teachers have lent helping hands everywhere I've been. For my medical degree I went to Michigan State University College of Human Medicine in East Lansing and did my internship and residency in internal medicine at the University of Illinois at Chicago. Hawaii's beauty, diversity, and aloha spirit makes the long distance between here and the Midwest worth it.
Acerca de mi práctica médica
I knew I wanted to have a career that would allow me to have a significant and beneficial effect on my community. Since I've always enjoyed academic challenges, especially in the sciences, medicine seemed like the perfect choice. During my residency I enjoyed stabilizing acute medical crises and being able to help people when they were most afraid. This led me to specialize in hospital medicine.
To stay current in my field and in medicine overall, I read the weekly newsletter put out by the American College of Physicians and access the online resource UpToDate. I also attend professional conferences, participate in continuing medical education programs, and consult colleagues.
At the Hawaii Permanente Medical Group I found a team of dedicated and supportive physicians who demonstrate great leadership and concern for their teams and colleagues. Up-to-date technology and helpful support staff also contribute to making this a great place to practice medicine. The positive relationships among all of the staff members involved in the hospitalization process allow us to work as a team and ensure seamless care for our patients.
I believe that illness is influenced by a person's life situation. Knowing more about a patient's experiences helps me to develop the most appropriate and timely care plan.
Cómo vivo bien
In my leisure time I take long walks and go on scenic hikes, prepare colorful meals, watch movies, pray, meditate, and read self-help books. I enjoy traveling and learning about the culture and history of those places, and I enjoy meeting fellow travelers. My highest priority is spending quality time with my family. Sharing my feelings helps me to release any stress I might feel and results in more meaningful and nurturing relationships with the important people in my life.
Read More
Read Less
Mi consultorio
Requisitos para una remisión
Necesita una remisión para ver a este proveedor.
Read More
Read Less
Grupos médicos y planes
Hawaii Permanente Medical Group
3288 Moanalua Road, Honolulu, HI 96819
List Header Plans Accepted
Este proveedor acepta todos los planes de salud de Kaiser Permanente. Obtenga más información.

Información de contacto
24-hour pharmacy
808-643-7979
24-hour prescription refill
808-643-7979
24/7 Advice (Hawaii Island)
808-334-4400
24/7 Advice (Kauai)
808-246-5600
24/7 Advice (Maui)
808-243-6000
24/7 Advice (Oahu)
808-432-2000
Clinic Specialty appointments (Neighbor islands)
1-877-432-8970 (toll free)
Clinic Specialty appointments (Oahu)
808-432-8000
Clinic appointment cancellation
808-432-7800
General information
808-432-0000
Member Services
1-800-966-5955 (toll free)
Same Day Surgery
808-432-8490
Mi formación, certificados y licencias
Escuela de medicina
Michigan State University of College Medicine Office of Registrar
Formación médica
Residency
Internal Medicine
University of Illinois Medical Center Dept. of Medicine

Chicago , IL
Se unió a Permanente Medical Group
2014
Identificación del proveedor
13948
Read More
Read Less
Mis hospitales
Tengo privilegios de admisión en los siguientes hospitales:
3288 Moanalua Road, Honolulu, HI 96819
Medición de la calidad de atención en nuestros hospitales: (PDF)
Si desea encontrar:
el horario de atención de un proveedor, busque en nuestro directorio de centros de atención
los proveedores incluidos en su plan o que aceptan pacientes nuevos, llame al 1-800-966-5955 (sin costo) o al 711 (línea TTY para personas con problemas auditivos o del habla)
La información de este directorio en línea se actualiza periódicamente. La disponibilidad de médicos, hospitales, proveedores y servicios puede cambiar.
Kaiser Permanente toma en cuenta los mismos niveles de calidad, la experiencia del miembro o los costos para seleccionar a los profesionales de la salud y los centros de atención en los planes del nivel Silver del Mercado de Seguros Médicos, como lo hace para todos los demás productos y líneas de negocios de KFHP (Kaiser Foundation Health Plan). Es posible que las medidas incluyan, entre otras, el rendimiento de Healthcare Effectiveness Data and Information Set (HEDIS)/Consumer Assessment of Healthcare Providers and Systems (CAHPS), las quejas de los miembros/pacientes, las calificaciones de seguridad del paciente, las medidas de calidad del hospital y la necesidad geográfica. Los miembros inscritos en los planes del Mercado de Seguros Médicos de KFHP tienen acceso a todos los proveedores del cuidado de la salud profesionales, institucionales y complementarios que participan en la red de proveedores contratados de los planes de KFHP, de acuerdo con los términos del plan de cobertura de KFHP de los miembros. Todos los médicos del grupo médico de Kaiser Permanente y los médicos de la red deben seguir los mismos procesos de revisión de calidad y certificaciones.
Kaiser Permanente aplica los mismos criterios en cuanto a la distribución geográfica para seleccionar los hospitales en los planes del Mercado de Seguros Médicos y en cuanto a todos los demás productos y líneas de negocio de Kaiser Foundation Health Plan (KFHP).
La información acerca de un profesional de la salud nos la proporciona el profesional de la salud o se obtiene en el proceso de certificación de credenciales. Si desea obtener información más actualizada sobre la licencia de un profesional de la salud, llame al Centro de Recursos del Consumidor (Consumer Resource Center) del Departamento de Comercio y Asuntos del Consumidor de Hawaii (Hawaii Department of Commerce and Consumer Affairs) al (808) 587-3295 o visite su sitio web (en inglés), o llame al Centro de Servicio al Cliente (Customer Service Center) de Kaiser Permanente al (808) 432-5955 (para Oahu) o al 1-800-966-5955 (sin costo, para las islas vecinas). Para las personas sordas, con problemas auditivos o del habla, llame al 1-800-966-5955 o al 711 (línea TTY).
Esta página fue actualizada por última vez el:

09/21/2019