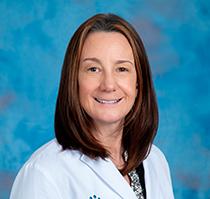 Mi especialidad:
Pulmonary Diseases
Mi afiliación de proveedor:
Proveedor de Kaiser Permanente
Idioma que hablo: English
Sexo: Mujer
Dónde ejerzo mi práctica médica
Esta información no está disponible en este momento.
Esta información no está disponible en este momento.
Servicios disponibles
Servicios de emergencia
Servicios de atención urgente
Servicios fuera del horario normal
Servicios de farmacia
Servicios no disponibles
Sin servicios de emergencia
Sin servicios de atención urgente
Sin servicios fuera del horario normal
Sin servicios de farmacia
Esta información no está disponible en este momento.
Map ends
Acerca de mí
I grew up in a beautiful, small college town in Virginia. Much of my childhood was spent in the surrounding mountains and farms exploring the outdoors. I always thought I would become a veterinarian after spending so much time with animals and nature. However, after my niece died of cancer, I realized my heart was in practicing medicine with people instead.Once I completed my internal medicine training in Texas, I wanted to move back to the East Coast to be closer to home. Georgia provided the perfect opportunity to be near the mountains and outdoors while also being in a place of exciting medical opportunity. This led me to go on and complete my training in pulmonary and critical care medicine. Georgia also provided the opportunity to meet my husband who grew up in this area. We are very lucky to have two beautiful children and extended family around Atlanta. We feel fortunate to live in a place full of such tremendous learning and cultural potential, while also being close to the mountains and outdoors of my childhood.
Acerca de mi práctica médica
I chose to train in the fields of both pulmonary and critical care medicine because I feel they are full of challenge. I see a very diverse group of patients, while also taking care of our members with the greatest needs in the intensive care unit (ICU). I am very fortunate to work with an incredible group of pulmonary doctors who are collaborative and supportive in the care of all of our members. Working as an ICU doctor also allows me to have direct interaction with many other Kaiser Permanente doctors. As a pulmonary doctor, I see many patients with asthma, COPD and emphysema. It is a tremendous reward to be able to help patients with breathing difficulties start to breathe better. I also lead a conference where pulmonary and radiology doctors discuss complicated diagnoses and treatment options for patients so that our members can receive the most current care. My practice challenges me to learn something each day to be able to continue to provide high-quality care for our members.
Cómo vivo bien
I like to challenge myself and reach new goals. Part of why I chose to practice medicine was because of the constant career challenges this field provides. I feel that by setting goals in all aspects of my life, I will set myself on a path that remains filled with happiness and satisfaction. Some recent goals in my life have been to spend more time volunteering at my children's school, find a better variety of meals to cook at home, run a half marathon and start yoga classes. While I realize there is not enough time in the day to work and fit in all these activities, I do think that balance can be achieved. By having specific and focused goals, I am able to find time over a few weeks or months to move towards each one. Reading is my secret pleasure, and I almost always try to read at least a few minutes before the end of the day! I know that raising children in a home filled with goals and opportunities will pass along the "drive to thrive" to them as well.
Read More
Read Less
Grupos médicos y planes
The Southeast Permanente Medical Group
2400 Mount Zion Parkway, Jonesboro, GA 30236
List Header Plans Accepted
HMO or EPO
Individual & Family Plans
Individual & Family Plans - Added Choice
Multi-Choice or POS
Senior Advantage
Signature HMO
Información de contacto
Health Line
1-800-255-0056 (toll-free TTY for the hearing/speech impaired)
Health Line
1-800-611-1811 (toll free)
Health Line locally
404-365-0966
Mi formación, certificaciones y licenciaturas
Escuela de medicina
Esta información no está disponible en este momento
Formación médica
Medical School
Virginia Commonwealth University

Richmond , VA
Internship/Residency
Internal Medicine
University of Texas - Dallas

Dallas , TX
Fellowship
Pulmonary & Critical Care Medicine
Emory School of Medicine

Atlanta , GA
Se unió a Permanente Medical Group
2009

Read More Read Less
Mis hospitales
Tengo privilegios de admisión en los siguientes hospitales:
5665 Peachtree-Dunwoody Road, Atlanta, GA 30342
550 West Peachtree Street, Ne, Atlanta, GA 30308
Si desea encontrar:
el horario de atención de un proveedor de Kaiser Permanente, busque en nuestro directorio de centros de atención
los proveedores de Kaiser Permanente que aceptan pacientes nuevos, llame al (404) 365-0966, 1-800-611-1811 (sin costo) o al 711 (línea TTY para personas con problemas auditivos o del habla)
el horario de atención de los proveedores afiliados o para saber si están aceptando pacientes nuevos, llame directamente a sus consultorios
La información de este directorio en línea se actualiza periódicamente. La disponibilidad de médicos, hospitales, proveedores y servicios puede cambiar. Antes de recibir atención en un centro de atención, seleccione la ubicación en nuestro directorio y verifique los tipos de planes aceptados en "About this facility" ("Acerca de este centro de atención") para asegurarse de que esté disponible en su plan. Si no se mencionan tipos de planes, el centro de atención está disponible para todos los tipos de planes.
Kaiser Permanente toma en cuenta los mismos niveles de calidad, la experiencia del miembro o los costos para seleccionar a los profesionales de la salud y los centros de atención en los planes del nivel Silver del Mercado de Seguros Médicos, como lo hace para todos los demás productos y líneas de negocios de KFHP (Kaiser Foundation Health Plan). Es posible que las medidas incluyan, entre otras, el rendimiento de Healthcare Effectiveness Data and Information Set (HEDIS)/Consumer Assessment of Healthcare Providers and Systems (CAHPS), las quejas de los miembros/pacientes, las calificaciones de seguridad del paciente, las medidas de calidad del hospital y la necesidad geográfica. Los miembros inscritos en los planes del Mercado de Seguros Médicos de KFHP tienen acceso a todos los proveedores del cuidado de la salud profesionales, institucionales y complementarios que participan en la red de proveedores contratados de los planes de KFHP, de acuerdo con los términos del plan de cobertura de KFHP de los miembros. Todos los médicos del grupo médico de Kaiser Permanente y los médicos de la red deben seguir los mismos procesos de revisión de calidad y certificaciones.
Kaiser Permanente aplica los mismos criterios en cuanto a la distribución geográfica para seleccionar los hospitales en los planes del Mercado de Seguros Médicos y en cuanto a todos los demás productos y líneas de negocio de Kaiser Foundation Health Plan (KFHP).
La información acerca de un profesional de la salud nos la proporciona el profesional de la salud o la red del profesional de la salud, o se obtiene en el proceso de certificación de credenciales. Es posible que la autorización del Colegio de Médicos no refleje los servicios contratados disponibles por parte de los profesionales de la salud incluidos en nuestro directorio. Si tiene alguna pregunta sobre esto o sobre cualquiera de nuestros profesionales de la salud, llámenos al 1-800-611-1811 (sin costo). Para personas con problemas auditivos o del habla: 1-888-865-5813 o al 711 (línea TTY). También puede llamar al Colegio de Médicos Compuesto de Georgia (Georgia Composite Medical Board) al (404) 656-3913 o visitar su sitio web (en inglés).
Esta página fue actualizada por última vez el:

04/25/2019