Eat healthy
Nourish your body
Nourish gives you an in-depth look at what you eat every day and helps you make healthy food choices.
After evaluating your daily eating habits, Nourish delivers a personalized plan that keeps your individual needs in mind, including:
food preferences and eating patterns
health conditions such as diabetes or osteoporosis
special diets such as vegetarian or lactose-restricted
weight goals and activity level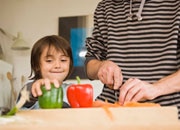 Once you complete the questionnaire, you'll receive a customized action plan that explains how you can eat right to help increase your energy and feel better overall.
You'll also learn how to help control your eating, manage your weight, and live a healthier life.
In fact, 61 percent of people using the program report improving their nutrition habits.*
If you aren't able to finish the program all at once you can save your spot, then pick up where you left off when you return.

---
Tried Nourish and want to learn more about eating well? You'll find information about eating right at any age, smart supermarket tips, and more in our healthy eating center
---
* Kaiser Permanente Johnson & Johnson Health and Wellness Solutions Outcomes, December 2015.
Reviewed by: Mark Groshek, MD, April 2016
© 2016 Kaiser Permanente