Overcome insomnia
Wake up feeling rested
Sleeping well can make a big difference in your energy, mood, and health. If you're not getting enough rest, we're here to help. By building healthy habits, you can improve your sleep and wake up refreshed.
Relax your body and mind
Dream is an online resource to help you adjust your lifestyle to get better rest. You'll get a personalized plan to monitor your sleep patterns, learn relaxation techniques, and track your progress.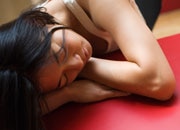 What's included in Dream?
First, you'll fill out a comprehensive questionnaire. Then you'll get a customized program to track your sleep over a period of 5 weeks. You'll quickly start building new habits to promote healthier sleep. To keep you on track, you'll get regular emails supporting and encouraging you.
If you can't finish the program all at once, you can save your spot and pick up where you left off.
---
* Kaiser Permanente Johnson & Johnson Health and Wellness Solutions Outcomes, January 2018.
Reviewed by: Mark Groshek, MD, January 2018