Eat healthy
Nourish your body
Eating well is a key part of healthy living. A balanced diet filled with nutritious  food can help you feel your best. But the social, cultural, and emotional aspects of food can make it difficult to change your eating habits.
Get motivated to make a healthy change
Nourish is an online resource to  improve the way  you eat. You'll learn strategies to help you add healthy foods to your diet, manage your weight, and live a healthier life.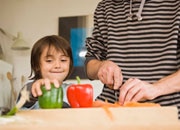 What's included in Nourish?
First, you'll fill out a comprehensive questionnaire about your diet and eating habits. Then you'll get recommendations based on your responses, and you can start building skills to form healthier habits. This program is designed to work with your food preferences and weight goals. It will also keep in mind any special diet or health condition you have. To keep you on track, you'll get regular emails supporting and encouraging you and your new behaviors. 
If you can't finish the program all at once, you can save your spot and pick up where you left off.
---
Tried Nourish and want to learn more about eating well? You'll find information about eating right at any age, smart supermarket tips, and more in our healthy eating center

---
* Kaiser Permanente Johnson & Johnson Health and Wellness Solutions Outcomes, January 2018.
Reviewed by: Mark Groshek, MD, January 2018