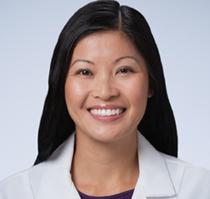 System Error
The information is not available
Mi especialidad:
Family Medicine
Mi afiliación de proveedor:
Proveedor de Kaiser Permanente
Idioma que hablo: English, Spanish, Tagalog
Sexo: Mujer
Dónde ejerzo mi práctica médica
Esta información no está disponible en este momento.
Esta información no está disponible en este momento.
Servicios disponibles
Servicios de emergencia
Servicios de atención urgente
Servicios fuera del horario normal
Servicios de farmacia
Servicios no disponibles
Sin servicios de emergencia
Sin servicios de atención urgente
Sin servicios fuera del horario normal
Sin servicios de farmacia
Esta información no está disponible en este momento.
Map ends
Acerca de mí
Growing up in Southern California, I was fortunate to spend many summers in the Hawaiian Islands, where I learned the values of community, selflessness, and the aloha spirit. My family also instilled in me the importance of hard work and a solid education. Following in the footsteps of my grandfather and the many family members after him, I became a family physician. I'm now thrilled to be able to give back to a place that has shaped who I am today.
Acerca de mi práctica médica
As a child I looked up to family members who were doctors with fulfilling careers helping others. For my undergraduate degree I went to UCLA, where I studied physiology and learned how cutting-edge research provides lasting cures. Continuing my interest in health, I earned a master's degree in public health and worked with community health programs in Los Angeles and New York. Finally, I attended medical school and specialized in family medicine. As a family medicine practitioner I'm privileged to care for patients from infancy through the end stages of their lives. I especially enjoy watching families grow and achieve their health care goals together. In addition to addressing the needs of a wide population in family medicine, I enjoy the broad scope of my practice. For example, I can perform adult preventive medicine exams and well-child checks, address chronic medical issues, care for urgent needs, and perform minor surgical procedures all in one day. This challenging environment allows me to maintain and build upon a diverse knowledge base.I'm a member of the American Medical Association and the American Board of Family Medicine. To stay up-to-date on medical research, I read journals related to patient care on a daily basis, take self-assessment tests every month, and attend family medicine conferences annually. In addition to English I'm fluent in both Spanish and Tagalog.In my mind the Hawaii Permanente Medical Group exemplifies excellence in care. Its team approach, integrated care, and outstanding patient outcomes are the standard by which many are now measured. It's a privilege to be part of a group that strives to be a leader in health care.It's my belief that patients can achieve their best health with the support of family, friends, and community and working as a team with their physician. I believe in listening, being a compassionate advocate, and working collaboratively with patients to create realistic treatment plans based on evidence and current research. Learning about my patients' interests allows me to better understand and promote their heath.
Cómo vivo bien
My husband, three children, and I stay healthy physically and mentally by enjoying various outdoor activities, including surfing, hiking, and golfing. I also stay connected with family who live on Maui, Oahu, Lanai, and the Big Island. I enjoy giving back to the community and am involved with the Mauli Ola Foundation, where I'm a volunteer physician providing surfing lessons to cystic fibrosis patients.
Read More
Read Less
Mi consultorio
Requisitos para una remisión
No necesita una remisión para ver a este proveedor.
Read More
Read Less
Grupos médicos y planes
Hawaii Permanente Medical Group
45-602 Kamehameha Highway, Kaneohe, HI 96744
List Header Plans Accepted
Este proveedor acepta todos los planes de salud de Kaiser Permanente. Obtenga más información.

Información de contacto
24-hour prescription refill
808-643-7979
Appointment cancellation
808-432-2000
Behavioral Health Services
808-432-7600
Information and appointments
808-432-2000
Member Services
1-800-966-5955 (toll free)
Mi formación, certificados y licencias
Escuela de medicina
University of Health Sciences - Chicago Medical School
Formación médica
Internship
Family Medicine
Long Beach Memorial Medical Center

Long Beach , CA
Residency
Family Medicine
Long Beach Memorial Medical Center

Long Beach , CA
Se unió a Permanente Medical Group
2015
Identificación del proveedor
14567
Read More
Read Less
Mis hospitales
Esta información no está disponible en este momento.
Si desea encontrar:
el horario de atención de un proveedor, busque en nuestro directorio de centros de atención
los proveedores incluidos en su plan o que aceptan pacientes nuevos, llame al 1-800-966-5955 (sin costo) o al 711 (línea TTY para personas con problemas auditivos o del habla)
La información de este directorio en línea se actualiza periódicamente. La disponibilidad de médicos, hospitales, proveedores y servicios puede cambiar.
Kaiser Permanente toma en cuenta los mismos niveles de calidad, la experiencia del miembro o los costos para seleccionar a los profesionales de la salud y los centros de atención en los planes del nivel Silver del Mercado de Seguros Médicos, como lo hace para todos los demás productos y líneas de negocios de KFHP (Kaiser Foundation Health Plan). Es posible que las medidas incluyan, entre otras, el rendimiento de Healthcare Effectiveness Data and Information Set (HEDIS)/Consumer Assessment of Healthcare Providers and Systems (CAHPS), las quejas de los miembros/pacientes, las calificaciones de seguridad del paciente, las medidas de calidad del hospital y la necesidad geográfica. Los miembros inscritos en los planes del Mercado de Seguros Médicos de KFHP tienen acceso a todos los proveedores del cuidado de la salud profesionales, institucionales y complementarios que participan en la red de proveedores contratados de los planes de KFHP, de acuerdo con los términos del plan de cobertura de KFHP de los miembros. Todos los médicos del grupo médico de Kaiser Permanente y los médicos de la red deben seguir los mismos procesos de revisión de calidad y certificaciones.
Kaiser Permanente aplica los mismos criterios en cuanto a la distribución geográfica para seleccionar los hospitales en los planes del Mercado de Seguros Médicos y en cuanto a todos los demás productos y líneas de negocio de Kaiser Foundation Health Plan (KFHP).
La información acerca de un profesional de la salud nos la proporciona el profesional de la salud o se obtiene en el proceso de certificación de credenciales. Si desea obtener información más actualizada sobre la licencia de un profesional de la salud, llame al Centro de Recursos del Consumidor (Consumer Resource Center) del Departamento de Comercio y Asuntos del Consumidor de Hawaii (Hawaii Department of Commerce and Consumer Affairs) al (808) 587-3295 o visite su sitio web (en inglés), o llame al Centro de Servicio al Cliente (Customer Service Center) de Kaiser Permanente al (808) 432-5955 (para Oahu) o al 1-800-966-5955 (sin costo, para las islas vecinas). Para las personas sordas, con problemas auditivos o del habla, llame al 1-800-966-5955 o al 711 (línea TTY).
Esta página fue actualizada por última vez el:

02/22/2020