Quit smoking
Tools to kick the habit
Quitting is a process — it doesn't happen overnight. But with the right support, you can make a lasting change. And as soon as you begin to quit, your body can start getting healthier. In fact, within 24 hours, your heart rate and blood pressure go down. Over time, you may notice other improvements, such as better breathing, vision, smell, and taste.
Make a change today, and make it stick
Breathe is an online resource to help you stop smoking. Whether you want to quit or you've already quit and want to stay off tobacco, you'll get a personalized action plan to help you succeed.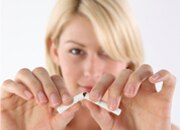 What's included in Breathe?
First, you'll fill out a comprehensive questionnaire about your smoking habits. Then you'll get recommendations based on your responses, and you can start practicing healthier habits.
Breathe can also help with your sleep, exercise, diet, and stress, so that you can lose the cigarettes without gaining pounds. To keep you on track, you'll get regular emails supporting and encouraging you in your new, healthier lifestyle.
If you can't finish the program all at once, you can save your spot and pick up where you left off.
Tried Breathe and want to learn more about living tobacco-free? You'll find information about quitting techniques, motivation, and more in our quit smoking center
---
* Kaiser Permanente Johnson & Johnson Health and Wellness Solutions Outcomes, January 2018.
Reviewed by: Mark Groshek, MD, January 2018