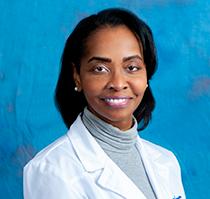 System Error
The information is not available
Mi especialidad:
Ophthalmology
Mi afiliación de proveedor:
Kaiser Permanente medical center provider
Idioma que hablo: English
Sexo: Mujer
Dónde ejerzo mi práctica médica
Esta información no está disponible en este momento.
Esta información no está disponible en este momento.
Servicios disponibles
Servicios de emergencia
Servicios de atención urgente
Servicios fuera del horario normal
Servicios de farmacia
Servicios no disponibles
Sin servicios de emergencia
Sin servicios de atención urgente
Sin servicios fuera del horario normal
Sin servicios de farmacia
Esta información no está disponible en este momento.
Map ends
Acerca de mí
I was inspired to become a doctor after working in an orphanage in my native country of Jamaica. In Jamaica, orphanages housed mainly children who had physical and developmental issues that made it too difficult or impossible for some families to handle. It was in this setting that I understood the full scope of the duties of health care providers, how much a country should be responsible for their most needy citizens and my passion to help in this health care space. The pursuit of this passion was made easier when I got the opportunity to immigrate to the U.S. in the 1980s where I attended college, medical school and other graduate level programs. During that time, I lived in many parts of the country including New York, Maryland, Chicago, Texas and my favorite to date, Georgia. My passions have grown to include being a mother, an entrepreneur and my involvement with charities geared towards underserved minority communities and children. I continue to be passionate about providing the best care to every patient I see, and I feel it is my duty to consider not only a patient's disease conditions but the social, psychological and economic issues that impact his or her health access and health status.
Acerca de mi práctica médica
I am pleased to join the Kaiser Permanente Ophthalmology Department after over fifteen years in clinical practice, seven of which have been in the Atlanta area. My practice interests lie in all aspects of glaucoma treatment and management including lasers and surgical glaucoma procedures, cataract surgery and in educating our members about their eye conditions. I enjoy ophthalmology and glaucoma specialization because it allows me to practice as a surgeon, which has always been a passion. Because of the chronic nature of the condition, it also allows me to get to know my patients very well as I guide them in managing the disease.
Cómo vivo bien
Like many of our members, I am constantly striving to find ways to nurture my mind, body and spirit. I am a lifelong learner in medicine and I have pursued training in other fields of interest, specifically, business and entrepreneurship. I believe in the restorative and healing power of exercise and I find ways to make my workout routines fresh and exciting by finding different ways to stay fit (yoga, running, tennis, golf, Zumba, weight training and dancing). My other passion is cooking which allows me to choose healthy meal options for myself and my family. However, as any aspiring chef knows, making the more decadent version of a dish on occasion can be the best way to enjoy food to the fullest and to exercise moderation. To nurture my spirit, I spend time with friends and family, travel and write fiction. Maintaining a good mix has worked well for me and I hope to take my yoga practice to a higher level in the quest for even better life balance.
Read More
Read Less
Grupos médicos y planes
The Southeast Permanente Medical Group
2400 Mount Zion Parkway, Jonesboro, GA 30236
List Header Plans Accepted
HMO or EPO
Individual & Family Plans
Individual & Family Plans - Added Choice
Multi-Choice or POS
Senior Advantage
Signature HMO
Información de contacto
Health Line
1-800-255-0056 (toll-free TTY for the hearing/speech impaired)
Health Line
1-800-611-1811 (toll free)
Health Line locally
404-365-0966
Mi formación, certificaciones y licenciaturas
Escuela de medicina
Esta información no está disponible en este momento.
Formación médica
Medical School
University of Rochester Medical Center

Rochester , NY
Medical School
University of Rochester Medical Center

Rochester , NY
Residency
Bronx Lebanon Hospital Center

Bronx , NY
Se unió a Permanente Medical Group
2018

Read More Read Less
Si desea encontrar:
el horario de atención de un proveedor de Kaiser Permanente, busque en nuestro directorio de centros de atención
los proveedores de Kaiser Permanente que aceptan pacientes nuevos, llame al (404) 365-0966, 1-800-611-1811 (sin costo) o al 711 (línea TTY para personas con problemas auditivos o del habla)
el horario de atención de los proveedores afiliados o para saber si están aceptando pacientes nuevos, llame directamente a sus consultorios
La información de este directorio en línea se actualiza periódicamente. La disponibilidad de médicos, hospitales, proveedores y servicios puede cambiar. Antes de recibir atención en un centro de atención, seleccione la ubicación en nuestro directorio y verifique los tipos de planes aceptados en "About this facility" ("Acerca de este centro de atención") para asegurarse de que esté disponible en su plan. Si no se mencionan tipos de planes, el centro de atención está disponible para todos los tipos de planes.
Kaiser Permanente toma en cuenta los mismos niveles de calidad, la experiencia del miembro o los costos para seleccionar a los profesionales de la salud y los centros de atención en los planes del nivel Silver del Mercado de Seguros Médicos, como lo hace para todos los demás productos y líneas de negocios de KFHP (Kaiser Foundation Health Plan). Es posible que las medidas incluyan, entre otras, el rendimiento de Healthcare Effectiveness Data and Information Set (HEDIS)/Consumer Assessment of Healthcare Providers and Systems (CAHPS), las quejas de los miembros/pacientes, las calificaciones de seguridad del paciente, las medidas de calidad del hospital y la necesidad geográfica. Los miembros inscritos en los planes del Mercado de Seguros Médicos de KFHP tienen acceso a todos los proveedores del cuidado de la salud profesionales, institucionales y complementarios que participan en la red de proveedores contratados de los planes de KFHP, de acuerdo con los términos del plan de cobertura de KFHP de los miembros. Todos los médicos del grupo médico de Kaiser Permanente y los médicos de la red deben seguir los mismos procesos de revisión de calidad y certificaciones.
Kaiser Permanente aplica los mismos criterios en cuanto a la distribución geográfica para seleccionar los hospitales en los planes del Mercado de Seguros Médicos y en cuanto a todos los demás productos y líneas de negocio de Kaiser Foundation Health Plan (KFHP).
La información acerca de un profesional de la salud nos la proporciona el profesional de la salud o la red del profesional de la salud, o se obtiene en el proceso de certificación de credenciales. Es posible que la autorización del Colegio de Médicos no refleje los servicios contratados disponibles por parte de los profesionales de la salud incluidos en nuestro directorio. Si tiene alguna pregunta sobre esto o sobre cualquiera de nuestros profesionales de la salud, llámenos al 1-800-611-1811 (sin costo). Para personas con problemas auditivos o del habla: 1-888-865-5813 o al 711 (línea TTY). También puede llamar al Colegio de Médicos Compuesto de Georgia (Georgia Composite Medical Board) al (404) 656-3913 o visitar su sitio web (en inglés).
Esta página fue actualizada por última vez el:

07/02/2020