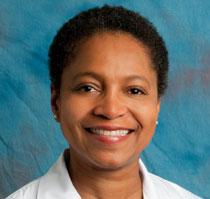 Mi especialidad:
Internal Medicine
Mi afiliación de proveedor:
Proveedor de Kaiser Permanente
Idioma que hablo: English
Sexo: Mujer
Dónde ejerzo mi práctica médica
Esta información no está disponible en este momento.
Esta información no está disponible en este momento.
Servicios disponibles
Servicios de emergencia
Servicios de atención urgente
Servicios fuera del horario normal
Servicios de farmacia
Servicios no disponibles
Sin servicios de emergencia
Sin servicios de atención urgente
Sin servicios fuera del horario normal
Sin servicios de farmacia
Esta información no está disponible en este momento.
Map ends
Acerca de mí
I grew up in Grenada, West Indies and Brooklyn, N.Y. My mother, a pediatric nurse, worked with children who had chronic and congenital health conditions and encouraged our family to appreciate our good health. During my last year of high school, I was inspired to study nursing by a compassionate nurse who cared for an ill relative of mine. I attended New York University and developed an interest in health promotion and chronic disease prevention. Two years after graduating, I traveled to Cuba with an American health care team, which was led by a well-respected health activist pediatrician and decided to pursue a career in medicine. I completed my internal medicine training at Montefiore Medical Center and specialty training in adolescent medicine at the University of Washington in Seattle. My husband, who is also a physician, loves climbing mountains, and I love being around water. Seattle has both, so we decided to stay there after we completed our fellowship training. Our two daughters were also born in Seattle. We moved to Atlanta in 2003 for my husband's job. In Atlanta, one of our favorite family rituals is hiking across the waterfall and around the lake in our neighborhood park.  
Acerca de mi práctica médica
The motto of my internal medicine residency program in New York was, "Make a difference." I have had the experience of practicing medicine in diverse settings, from a rural village in Liberia with scarce resources to Kaiser Permanente, where there is a wealth of resources. The greater part of my experience has been in providing direct patient care. I also served as the clinical site director for a Seattle community clinic for over 10 years, and participated in developing national health goals in my work at the Centers for Disease Control and Prevention. At Kaiser Permanente, I have colleagues, tools and resources that support providing high-quality care to our members and our community. I encourage our members to take advantage of the classes and services that are available to them, such as exercise, weight management and smoking cessation. We care for the individuals who come to us because of concerns or for treatment of acute or chronic health conditions. We also reach out to members to remind and inform them of care they should receive such as preventive health exams. I am glad to be part of an organization that strives to "make a difference" in the lives of our members, the community and the nation.  
Cómo vivo bien
I thrive when my family and patients thrive. I try to practice what I teach, although getting eight hours sleep is still a challenge! I do exercise three to four days a week, and I love cooking, reading, playing piano and hiking with my family. I try to stay connected with my family and friends, and I love playing Scrabble with my parents. Attending our daughters' dance and music performances brings me much joy. My husband and I enjoy walking our younger daughter to her piano lessons and we often stop to smell the roses in our neighbor's garden. We also volunteer for our daughter's school and extracurricular activities.  
Read More
Read Less
Grupos médicos y planes
The Southeast Permanente Medical Group
5440 Hillandale Drive, Lithonia, GA 30058
List Header Plans Accepted
HMO or EPO
Individual & Family Plans
Individual & Family Plans - Added Choice
Multi-Choice or POS
Senior Advantage
Signature HMO
Información de contacto
Health Line
1-800-611-1811 (toll free)
Health Line TTY
1-800-255-0056 (toll-free TTY for the hearing/speech impaired)
Health Line locally
404-365-0966
Mi formación, certificaciones y licenciaturas
Escuela de medicina
Universidad Del Noreste

Tampico/Tamaulipas

, Mexico
Formación médica
Internship/Residency
Internal Medicine
Montefiore Medical Center

Bronx , NY
Se unió a Permanente Medical Group
2010
Identificación del proveedor
3739
Read More
Read Less
Mis hospitales
Tengo privilegios de admisión en los siguientes hospitales:
550 West Peachtree Street, Ne, Atlanta, GA 30308
Si desea encontrar:
el horario de atención de un proveedor de Kaiser Permanente, busque en nuestro directorio de centros de atención
los proveedores de Kaiser Permanente que aceptan pacientes nuevos, llame al (404) 365-0966, 1-800-611-1811 (sin costo) o al 711 (línea TTY para personas con problemas auditivos o del habla)
el horario de atención de los proveedores afiliados o para saber si están aceptando pacientes nuevos, llame directamente a sus consultorios
La información de este directorio en línea se actualiza periódicamente. La disponibilidad de médicos, hospitales, proveedores y servicios puede cambiar. Antes de recibir atención en un centro de atención, seleccione la ubicación en nuestro directorio y verifique los tipos de planes aceptados en "About this facility" ("Acerca de este centro de atención") para asegurarse de que esté disponible en su plan. Si no se mencionan tipos de planes, el centro de atención está disponible para todos los tipos de planes.
Kaiser Permanente toma en cuenta los mismos niveles de calidad, la experiencia del miembro o los costos para seleccionar a los profesionales de la salud y los centros de atención en los planes del nivel Silver del Mercado de Seguros Médicos, como lo hace para todos los demás productos y líneas de negocios de KFHP (Kaiser Foundation Health Plan). Es posible que las medidas incluyan, entre otras, el rendimiento de Healthcare Effectiveness Data and Information Set (HEDIS)/Consumer Assessment of Healthcare Providers and Systems (CAHPS), las quejas de los miembros/pacientes, las calificaciones de seguridad del paciente, las medidas de calidad del hospital y la necesidad geográfica. Los miembros inscritos en los planes del Mercado de Seguros Médicos de KFHP tienen acceso a todos los proveedores del cuidado de la salud profesionales, institucionales y complementarios que participan en la red de proveedores contratados de los planes de KFHP, de acuerdo con los términos del plan de cobertura de KFHP de los miembros. Todos los médicos del grupo médico de Kaiser Permanente y los médicos de la red deben seguir los mismos procesos de revisión de calidad y certificaciones.
Kaiser Permanente aplica los mismos criterios en cuanto a la distribución geográfica para seleccionar los hospitales en los planes del Mercado de Seguros Médicos y en cuanto a todos los demás productos y líneas de negocio de Kaiser Foundation Health Plan (KFHP).
La información acerca de un profesional de la salud nos la proporciona el profesional de la salud o la red del profesional de la salud, o se obtiene en el proceso de certificación de credenciales. Es posible que la autorización del Colegio de Médicos no refleje los servicios contratados disponibles por parte de los profesionales de la salud incluidos en nuestro directorio. Si tiene alguna pregunta sobre esto o sobre cualquiera de nuestros profesionales de la salud, llámenos al 1-800-611-1811 (sin costo). Para personas con problemas auditivos o del habla: 1-888-865-5813 o al 711 (línea TTY). También puede llamar al Colegio de Médicos Compuesto de Georgia (Georgia Composite Medical Board) al (404) 656-3913 o visitar su sitio web (en inglés).
Esta página fue actualizada por última vez el:

02/23/2019