Manage chronic pain
Small changes for long-term relief
Chronic pain can impact your everyday life. But with some healthy tips and strategies, you can improve how you manage your pain. This program can help you deal with many types of chronic pain, including:
arthritis and other joint pain
muscle and soft tissue pain
nerve pain and pinched nerves
chronic headaches and jaw pain
Get the support you need
Care for pain is an online resource to help you learn how pain affects you and build skills to cope with it. You'll get a personalized plan to help manage the pain and improve your quality of life.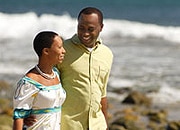 What's included in Care for Pain?
First, you'll fill out a comprehensive questionnaire. Then you'll get recommendations based on your responses, and you can start improving the way you manage your chronic pain. To keep you on track, you'll get regular emails supporting and encouraging you.
If you can't finish the program all at once, you can save your spot and pick up where you left off.
---
* Kaiser Permanente Johnson & Johnson Health and Wellness Solutions Outcomes, January 2018.
Reviewed by: Mark Groshek, MD, January 2018